Manitou
Manitou plans to introduce the world's smallest and lightest telehandlers in early 2022.
During an unveiling of its latest aerial equipment in April, the company provided a brief teaser to its new rough-terrain Ultra Light Manitou line.
"We have two machines within this range that are the lightest and the smallest telehandlers in the world," said Laurent Bonnaure, Manitou executive vice president, at the virtual event.
The two ULM telehandler models will weigh less than 6,000 pounds, including the attachment, Bonnaure said. They will be less than 4 feet 9 inches wide and just over 6 feet 2 inches high.
They can be towed by a standard trailer behind a pickup truck or service van, he said. Though small and light, they will not compromise on power, lift height and load capacity.
"The ULM combines all the ingredients and the DNA that makes Manitou telehandlers unique," he said. "It is about compactness, user-friendliness, design, robustness, low cost of ownership, comfort and performance. ... As small as it may be, it is a real telehandler."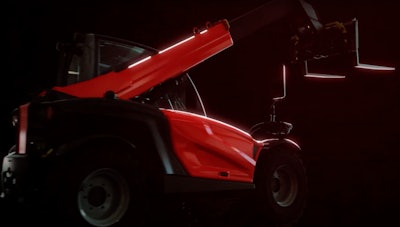 The ULMs will feature four-wheel drive, four-wheel steering, oscillating rear axles, and Manitou's JSM joystick, which enables boom movements and machine drive forward and backward with one hand so you can keep the other hand on the steering wheel. (JSM stands for Joystick, Switch and Move.) The operator's hand can rest on top of the joystick.
The telehandlers will be compatible with Manitou's attachments. It is geared to the construction market, but it can be used on a variety of jobsites, including landscaping.
The telehandlers are undergoing endurance testing, and it is expected that the first machine will be available for order at the end of the year, Bonnaure said. The company expects to begin deliveries to dealers and rental shops in early 2022.
To watch Manitou's teaser video of the future telehandlers, see below: