Manitou
Manitou's new lineups of Vision and Vision+ rotating telehandlers deliver greater lifting capacity and a host of features designed to make life easier for operators.
The new telehandlers with 360-degree rotation are designed for such construction tasks as installing structural steel, building renovations and demolition.
The first thing you'll notice about the new MRT models is the unique cab shape surrounded by glass and with a reinforced, gridless roof. The improved in-cab visibility is how the telehandlers got the Vision name.
The cab is pressurized and insulated to reduce noise. An ROPS/FOPS Level 2 option is available.
The telehandlers can also be operated by remote control from the platform or from outside the cab.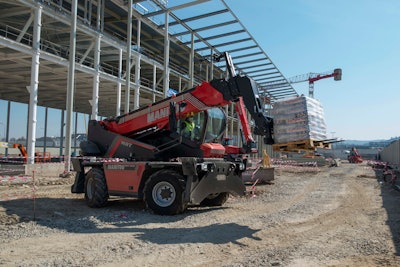 A new hydraulic pump delivers 31 gallons per minute for the Vision machines and 49 gallons per minute in the Vision+ models. That leads to boom movement that is 50% faster in the Vision machines and more than 30% faster for Vision+, the company says.
Manitou says it doubled the telehandlers' capacity at max height and boosted capacity at max reach by 25%. Overall load capacity was raised 15%, while overall weight of the machine was reduced 5%.
The Vision models range in lift heights of 52 feet 5 inches to 82 feet for a load up to 9,900 pounds. Depending on the model, engines range from 75 to 116 horsepower.
The Vision+ lineup ranges from 156 to 211 horsepower. Lift heights are between 72 feet 9 inches and 114 feet 8 inches. That upper height is delivered by the MRT 3570, which has a new electric seat that tilts up to 18 degrees for better views of the boom when working at heights.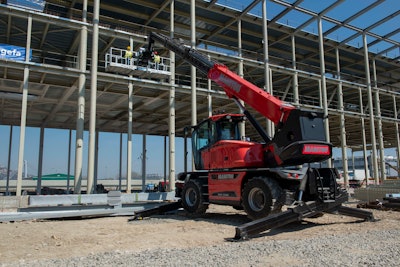 Manitou added a hydrostatic transmission, which delivers max speed of 25 mph.
Another feature to help operators is five LED headlamps for full lighting around the telehandler and two work lights on the boom head for better visibility when loading at height. The MRTs are equipped with a rearview camera and have a new touchscreen that is 8 inches tall in the Vision cabs and 12 inches tall in the Vision+ models.
The company also made it easier to access the cab, placing entry steps on the sides, front and back, so an operator can get in and out no matter what position the rotating cab is in.
Several new attachments are available for the MRTs, including floating fork carriages, a winch with hydraulic motor and an all-aluminum platform with a load capacity of 805 pounds.
Both Vision and Vision+ models are scheduled to be available to dealers and rental shops by September, Manitou says.
Here's a breakdown of the Vision and Vision+ lineups' specs for Manitou's newest MRT models: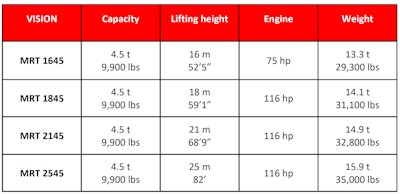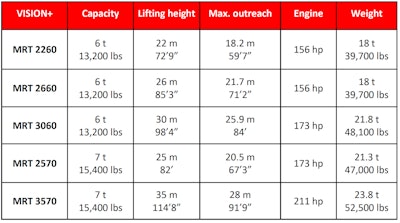 Manitou also made this video of a walk-around of a Vision+ model: