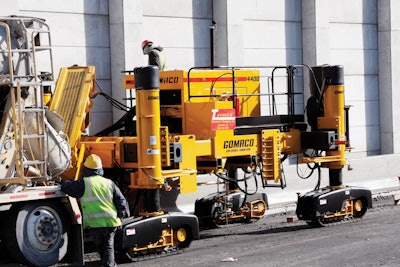 GOMACO Corp.'s new 4400 barrier machine for right-side and left-side slipforming will make its World of Concrete show debut in 2012 in Las Vegas.
The new machine, built specifically for barrier applications, features a U-shaped operator's platform features vibration isolation and a high-capacity cooling package on the engine. The manufacturer's proprietary G+ control system makes the machine capable of operating in multiple languages.
The 4400's design concept was built around a left-side and right-side slipforming capable machine with symmetrical steering and minimal set-up changes for switching profiles from side-to-side. Its unique GOMACO U-shaped operator's platform, with vibration isolation, puts the operator comfortably on top of the action. The U-shaped platform and side-to-side sliding control console accommodate right-side and left-side pour and provide a 360 degree view of the entire paving operation.