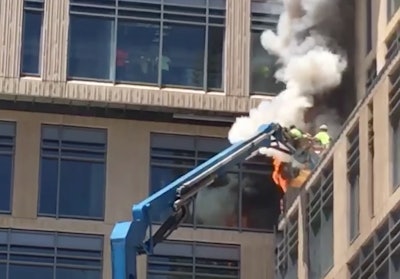 Two construction workers on a Boise, Idaho, jobsite were forced to jump from a boom lift earlier this week when the bucket caught on fire.
According to a report from KBOI TV, a welding blanket caught on fire inside the bucket. The blaze short circuited controls inside the bucket and it was only once co-workers on the ground gained control of the lift that they could put the bucket in position to allow the men onboard to jump to the safety of sixth floor landing.
The ordeal was captured by Jeff Sydell, a construction worker present on the site. The video, posted below, shows co-workers battling the blaze with a fire extinguisher from the landing as they helped the two men to safety.
It remains unclear what caused the welding blanket to catch on fire.