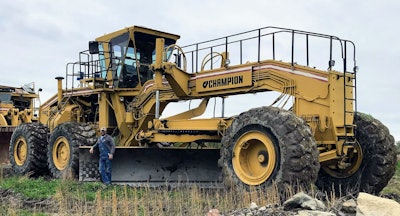 Garret Wilson
Warning: This story includes discussion of a suicide attempt. The 988 Suicide and Crisis Lifeline is a hotline for individuals in crisis or for those looking to help someone else. To speak with a trained listener, call 988. Visit 988lifeline.org for crisis chat services or for more information.
Garret Wilson grew up in a troubled home and found solace by working in construction and learning how to operate construction equipment.
At 17, Wilson was kicked out of his house. But having worked in construction since he was 12, he had a job on a residential construction crew as an operator. He lived in one of his boss' apartments.
He also started drinking alcohol heavily. "By the time I was 21, I was pretty much drunk all the time," he says.
Around that time, his girlfriend broke up with him. The emotional stress of his childhood conditions and his alcohol abuse came crashing down. He decided to end his life.
Though he pulled the trigger several times, the shotgun he had often fired and knew to be reliable didn't go off. He threw it at the wall.
"I called my dad, and my dad came and got me," he recalls. "We just drove around town all night long. I never said a word. He knew something was up, but he didn't know what was up."
The incident had a profound impact on Wilson. He believes he is still alive today because of divine intervention.
"People ask me if I believe in God or not, and I'm like, 'I do.'"
"And they're like, 'How do you know?'"
He tells them about the gun not firing. He often gets funny looks.
"That's my stance on it," he says. "There's nothing you're going to do that can change my mind on it. Because that's the experience that I had."
It was also the last time he drank alcohol. He believes drinking contributed to his trying to take his life.
"It was definitely part of it," he says. "It wasn't all of it. It was more of the coping than anything else."
Download the Mental Health Survey
The Mental Health in Construction Survey conducted by Equipment World was taken by 269 construction industry professionals from May 4 to June 1, 2023. Responses that did not fit the primary business criteria were not included in the results, and the observations drawn from the results were limited to responses from qualified individuals only.

Participants across the U.S. answered more than 20 questions about their current mental health, the most significant stressors in their lives, and the resources – or lack thereof – available to them.
Hiding Out in Work
Though no longer drinking, Wilson did not deal with his childhood trauma for the next 15 or so years. He also didn't talk about the suicide attempt.
"Most people didn't know for the longest time," he says. "Obviously, it's something you're embarrassed about. This isn't something we're supposed to talk about."
He threw himself into road construction work. In the meantime, he got married. He and his wife have two sons.
"I hid myself in my work," he says. "And I did that for a long time until it almost cost me my marriage."
He was extremely angry, often getting into fights on the job. "I was always in trouble."
He realized he needed help.
"About two years ago, I started seeing another therapist, and I go every other week to this day," he says.
"We just work on – I hate these words 'coping skills' – but we work on how I react to life."
He decided to leave the stress of road work and now owns GP Wilson Grading and Excavation, a small residential construction company in Beaver Dams, New York. He also collects vintage equipment, especially friction cranes, something he's done since he was 21. He has become well-respected in the industry for his skills as an operator.
Learning Forgiveness
Wilson has learned to stay calm and not react explosively when angry and to de-escalate confrontations. Deep breathing exercises are among the ways he has learned to deal with emotional upset, along with being able to objectively analyze what he's feeling and how others may feel.
He still sometimes thinks of suicide, but it doesn't overcome him. "It's just there," he says. "It's like dealing with depression."
Through his recovery, he has learned forgiveness, and to many people's disbelief, that has included his stepfather who was abusive.
"People ask me, 'How can you even talk to the guy?'"
"My stepfather is one of my best friends to this day," he says. "He's such an amazing grandfather to my kids. It just blows my mind."
Wilson feels empathy because he knows of the abuse his stepfather went through as a child. His stepfather has also been sober for years now and has dealt with his childhood trauma.
"I can't be mad at this guy," he says. "He's playing the cards he has been dealt. His generation, they didn't work on their mental health. They didn't have it like we do today."
Open and Honest
Despite the improvements in mental health care, Wilson still sees large stumbling blocks to people getting the help they need.
He has faced criticism on social media for opening up about his mental health issues and recovery. He's seen such comments on his and other construction-related social media sites as "stop whining, stop crying, stop feeling sorry for yourself, stop playing the victim, handle it like a man, suck it up; we drink our problems away on the job."
But by being open and honest, he's been able to help others who have reached out to him after reading his comments about his experiences with mental health.
The biggest problem he sees is people's misconceptions of mental illness and suicide as weaknesses, something to be ashamed of and to keep to yourself.
"Until we can normalize advocating for proper mental health, it's always going to be this dirty, little, taboo topic," he says. "When Suicide Prevention Month rolls around, we're all about it. And then guess what happens next month? We don't talk about it. We're onto the next hot topic."
Contractors' Stories of Hope
To read other accounts of contractors who have overcome mental health challenges, check out our stories below.
Also in this series: