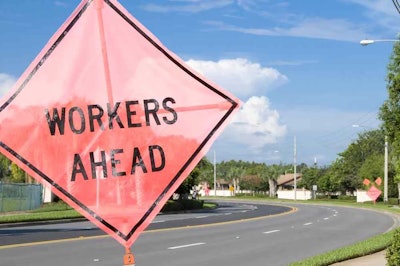 A Boston area contractor faces $1.35 million in penalties following the death of two workers who were hit by a dump truck and then fell into a 9-foot-deep excavation, according to the U.S. Occupational Safety and Health Administration.
The trenching, excavation and underground construction contractor was cited with 28 violations. OSHA also used its "egregious citation policy" to propose additional penalties due to the company's history of infractions and the severity of the incident, the agency said. The policy enables OSHA to issue a separate financial penalty for each of the 28 violations.
OSHA said the contractor had been fined for 14 previous violations for a total of $81,242. However, $73,542 of those fines were unpaid and referred to debt collection. OSHA is also investigating another incident involving alleged excavation violations on August 13 on a utilities project in East Boston.
Atlantic Coast Utilities/Advanced Utilities of Wayland, Massachusetts, was the contractor on a sewer repair project in downtown Boston on February 24 when Jordy Alexander Castaneda Romero, 27, and Juan Carlos Figueroa Gutierrez, 33, died. OSHA says the penalties also affect predecessor company Shannon Construction Corporation, owner Laurence Moloney and successor company Sterling Excavation. Sterling was also the contractor on the August 13 project being investigated.
"While two families still mourn the loss of their loved ones, this employer has ignored safety violations, failed to pay fines and shown a total disregard for the safety of its employees," said Acting Assistant Secretary of Labor for Occupational Safety and Health James Frederick. "OSHA will use every enforcement and legal tool available to hold scofflaw companies such as this and their owners accountable."
OSHA issues citations
On February 24, Romero and Gutierrez were working on an emergency sewer repair project when an Atlantic Coast Utilities dump truck struck them while backing up and caused them to fall into the excavation.
Emergency responders found them in the hole, and they were pronounced dead on the scene.
The Suffolk County District Attorney's Office is also investigating the incident.
The bulk of the proposed financial penalties, which total $1,350,884, were related to failing to train workers on excavation and road work hazards.
"When you fail to train your employees properly, you deny them the most valuable tool they can have, knowledge. Knowledge to do their work correctly and safely, knowledge to understand the hazards that accompany their job and knowledge of how to identify and eliminate those hazards before they injure, sicken or kill workers," said OSHA Acting Regional Administrator Jeffrey Erskine in Boston.
OSHA also issued the following safety and health violations for the incident:
Inadequate cave-in protection.
Failing to protect workers from potentially hazardous gases in the excavation.
Repeat violation for workers in a trench where the pavement has been undermined.
Ladder did not extend at least 3 feet above street level.
No inspections program for worksites.
Traffic control measures did not meet standards.
Defects had not been corrected on dump truck before incident.
Workers were not wearing high-visibility vests.
Failure to properly document and report the two deaths to OSHA.