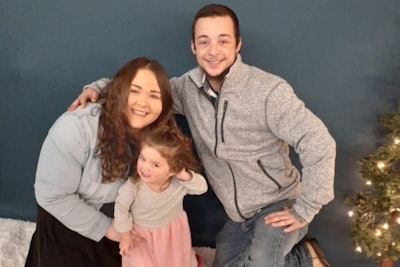 A contractor on a wind farm project in Washington and its affiliate face a total of $555,674 in proposed fines after a trench collapse January 9 killed one worker and injured another.
The estate of the deceased worker has also filed suit against the companies cited in the incident, alleging negligence in the death of 24-year-old Jonathan F. Stringer. The companies are affiliates of Renewable Energy Systems-Americas. RES's LinkedIn page says it is the world's largest renewable energy company and has global headquarters in the United Kingdom.
Stringer died after trying to rescue a fellow worker when part of a 15-foot-deep trench collapsed at the Skookumchuck Wind Farm site, according to the Washington State Department of Labor & Industries. The workers had been positioning a bore pipe so an excavator could place it under a culvert. L&I said the soil was unstable due to rain and that no trench box or other trench protection was in place.
Stringer and an excavator operator jumped in the trench after the worker was buried to try to save him. When they entered the trench, a second, larger collapse occurred, according to L&I. The excavator operator was covered up to his knees but was able to get out and call for help. Workers for RES America Construction Inc. and RES System 3 LLC and medics with a private medical service contractor attempted to rescue the buried workers. "At one point, nine or more people took turns entering the still unprotected trench to dig out the buried workers," L&I said in its July 16 news release about the violations.
Stringer was later found and pronounced dead at the scene. Soon after, the first victim, an RES System 3 employee, was uncovered and flown to a Seattle hospital for treatment of serious injuries, L&I reported.
"This incident is heartbreaking and frustrating," said Anne Soiza, assistant director in charge of L&I's Division of Occupational Safety and Health. "This fatality and the hospitalization of a worker were completely preventable. Trenching at this depth, in the dead of winter after days of rain, in unstable soil with no trench box, was a recipe for disaster. These violations were flagrant and they nearly led to a multiple-fatality incident."
Stringer worked for Aerotek, a temporary-worker agency hired by RES System 3. RES System 3 was the subcontractor on the project, and RES America Construction was the general contractor, according to L&I. RES bought System 3 in 2015. RES Americas is headquartered in Broomfield, Colorado.
L&I proposed fines of $360,874 for RES System 3 for the following alleged violations: no cave-in protection, no competent person trained on trench safety on site, no written safety program tailored to the project, inadequate training, improper ladder extension, and no means of getting out of the trench.
"RES System 3 acted indifferently to the site hazards and the rules, including regularly disregarding their internal safety policies and procedures, promoting a work policy designed to circumvent the requirements of the code, and providing inadequate direction to a crew doing inherently dangerous work," L&I said.
RES America Construction faces $184,800 in proposed fines for the following alleged violations: not ensuring the subcontractor used cave-in protection, not having a written safety program tailored to the project, inadequate training programs and improper ladder extension.
The onsite medical services contractor, GEMS, also faces fines of $4,200 for exposing two of its employees to hazards when they entered the unprotected trench, according to L&I.
A statement from RES says it plans to appeal L&I's fines, reports the The Daily Chronicle newspaper:
"We are heartbroken by the circumstances of this situation. RES fully cooperated with the Washington Department of Labor and Industries Division of Occupational Safety and Health during the course of this investigation. We strongly disagree with the alleged violations outlined in the citations and will contest the citations in the appropriate regulatory framework."
In May, Stringer's estate filed a lawsuit against RES-Americas, RES America Construction and property owner Weyerhaeuser Company, and the suit was recently expanded to include RES System 3, the Chronicle reports.
Stringer is survived by a daughter and fiancée. Stringer's father wrote on a GoFundMe page for the Jonathan Stringer Family Fund:
"He was on a jobsite, helping save a man from a collapsing trench. He succeeded. It was Jon's nature – helping others."
For more on the business and human costs of trench-collapse fatalities, see Equipment World's special report Death by Trench.