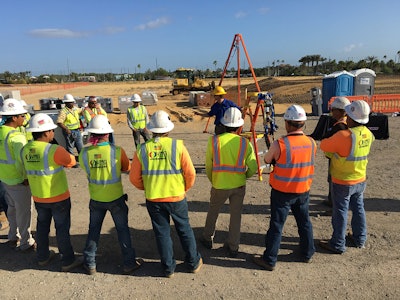 While construction workers generally don't gather into large groups every day, the need for social distancing during the coronavirus outbreak is still a concern.
And if there is one time when site workers do gather into a group it is the daily or weekly safety briefing. But thanks to technology, this briefing need not be a face-to-face encounter. Construction software company HCSS has a solution.
"We just added two new safety talks covering the Covid-19 virus in the HCSS Safety module," says Rateb Almasri, product manager. "One of the talks is general awareness for the construction industry, what Covid-19 is. And then there's a toolbox talk that covers what to do if you are experiencing symptoms of Covid-19."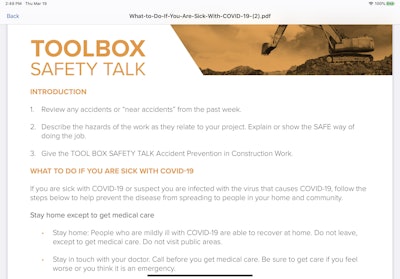 Instead of standing around somebody's truck or in the shop or sitting in a conference rooms, these online safety meetings allow anybody you designate to participate remotely on their phone, tablet or computer. People can do it in the isolation of their own vehicle, the cab of their machine or at home.
"You can go to the topic of the day and add your crew and anybody else you want to, including visitors and have everybody sign off," says Almasri. "And you can attach a photo to the safety meeting as well."
That means nobody has to get within coughing, sneezing or transmission distance of anybody else, and nobody has to sign and pass around an attendance sheet—all of which can inadvertently pass around the virus. There are logins for attendance, a time and date stamp for OSHA record keeping. And you can ask your supervisor or safety manager questions live at the end of the briefing.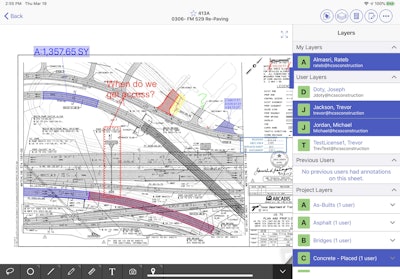 Most of the safety briefings in the HCSS catalog last from five to ten minutes, says Almasri, depending on how many questions get asked.
HCSS also has a couple other modules that can cut down on human interaction during the Coronavirus epidemic, says Almasri. "We have a drawing management solution called HCSS Plans, which allows employees to collaborate on plan sheets without meeting face to face. So if the project manager is on one location and the project foreman is at another location, the project manager can draw on the plan and then the foreman can instantly see what he's doing."
The company also offers modules for virtual/online job hazard analysis and daily equipment inspections that can be uploaded to the web rather than filed as a piece of paperwork for others to collect and handle.
HCSS has also just posted a free resource website with a number of tech tips  focused on helping construction contractors figure out how to manage crews and work in light of the new isolation policies. You can find it here.