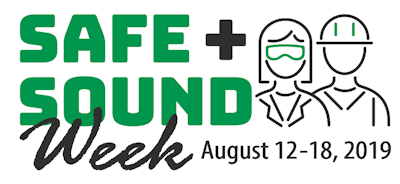 The Occupational Safety and Health Administration (OSHA) will join businesses and organizations nationwide to recognize the importance and successes of workplace safety and health programs during Safe + Sound Week, August 12-18. The event encourages employers to participate in Safe + Sound Week by implementing workplace safety initiatives, and highlighting workers' contributions to improving safety.
"Leadership commitment matters and demonstrates workplace safety is a priority," said Acting Assistant Secretary of Labor for Occupational Safety and Health Loren Sweatt in a press release. "Safe + Sound Week reminds employers that safety and health programs help businesses save money, eliminate injuries, and most importantly save lives."
Organizations of any size or in any industry looking for an opportunity to show their commitment to workplace safety and health are encouraged to host a workplace safety event by delivering a presentation or workshop that reinforces the importance of workplace safety and health; conducting a meeting to get input from workers on safety concerns and ideas for hazard prevention; or conducting an award ceremony to recognize workers or teams for their contributions to workplace safety. It also provides a great opportunity to establish or fine tune procedures for collecting and reviewing information about known or potential workplace hazards, investigating their root causes, and implementing or improving hazard controls.
The Safe + Sound section on the OSHA website provides resources, including how to establish a safety and health program, recommended safety and health practices, a list of OSHA training programs, how to conduct workplace safety walk-arounds, and a brochure on common workplace hazards. Employers can also find ideas for what to do during Safe + Sound Week, as well as an archive of activities and events from past years.
The OSHA Training Institute Education Center will offer OSHA 7205-Health Hazard Awareness on Aug. 15 in Dublin, Calif., at a discounted rate of $50. The one-day course introduces common health hazards encountered in the workplace, and emphasizes recognizing and identifying potential hazards, and avoiding, minimizing, controlling, or eliminating them whenever possible.