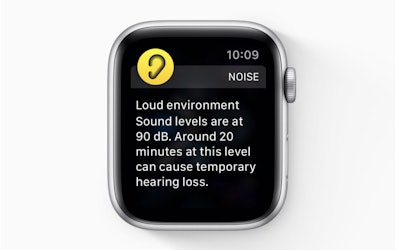 During the opening keynote at its annual Worldwide Developers Conference Monday morning, Apple introduced several new features coming to Apple Watch, including the ability to suggest when you need hearing protection.
The feature is part of Apple's new Hearing Health monitoring coming this fall through the watchOS 6 software update.
The update will bring users a new Noise app that Apple says "monitors your environment's ambient noise and tracks the duration of your exposure."
When you open it, you'll see a sound meter providing real time decibel readings of your environment. It looks like this:
But the app also runs in the background and keeps listening for loud environments. When it detects a volume and length of exposure that is harmful, it will send you a notification and "tap" your wrist when it's time to either leave or put on hearing protection.
The new feature could come in extremely handy on construction jobsites, which are likely more harmful to hearing than many workers might think. And with machines coming and going throughout the day, there's a lot of variation in sound levels, something that a device like the Apple Watch can keep better track of as the day wears on.