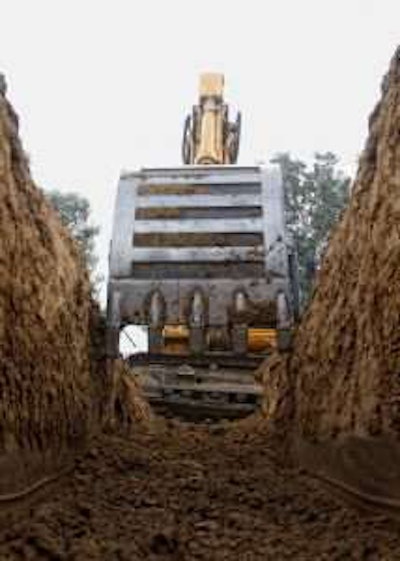 OSHA has fined Mason, Ohio company JK Excavating & Utilities $202,201 in response to the trench-collapse death of 25-year-old Zachary David Hess on Dec. 28, 2017.
Hess's death was profiled in Equipment World's recent special report on trench collapse fatalities. He died in a 16-foot trench working on a sewer tap-in at a housing project in Morrow, Ohio. Initial news reports placed the trench at 25 feet deep.
OSHA placed JK Excavating in its Severe Violator Enforcement Program and issued four citations and penalties for violations to the Occupational Safety and Health Act:
Willful:$129,336 for exposing employees to cave-in hazards without the use of adequate protective systems.
Serious:$42,128 for five violations involving an employee not wearing a hard hat, exposure to overhead struck-by hazard while working beneath a 1,177-pound trench shield suspended by an excavator, working in standing water with no protective measures and/or water removal method, using an aluminum extension ladder that had been separated into two sections to access and egress the trench, and lack of training on the hazards of ladders.
Repeat:$28,455, for employee entering a 16-foot-deep trench without suitable means of access and egress.
Other-than-serious:$2,282, for JK Excavating failing to ensure provisions were made prior to the project start for prompt medical attention in case of a serious injury, and not having a copy of the trench shield manufacturer's tabulated data on site and available upon request.
Average initial fine for willful deaths: $122,976
Prior to the JK Excavating fines, OSHA had issued willful violations in 13 trench-collapse incidents representing 15 fatalities in the 2016-2017 timeframe, according to Equipment World research. That amount includes a nearly $1.5 million fine to Atlantic Drain Service, Bellingham, Massachusetts, for a downtown Boston incident that took the lives of Kelvin (Chuck) Mattocks, 53, and Robert Joseph Higgins, 47.
Initial OSHA fines in these 13 incidents totaled $2.95 million. That number, however, is cut by more than half when the Atlantic Drain outlier is removed from the total. For the remaining incidents, excluding the just-released JK Excavating fine, the average initial fine for a willful violation was $122,976.
Companies receiving high initial fines for trench safety infractions during this two-year time period include Arrow Plumbing, Blue Springs, Missouri, which received a $294,059 initial fine including willful citations for the Dec. 15, 2016 death of David (D. J.) Meyer, age 33.
Higher fines aren't just the result of a fatality: Kamphuis Pipeline, Grand Rapids, Michigan, received a $187,653 fine for exposing its employees to trench cave-ins. Jax Utilities Management, Jacksonville, Florida, received an initial $271,606 fine after an investigation of an employee injury in a trench. That fine has been reduced to $135,836.