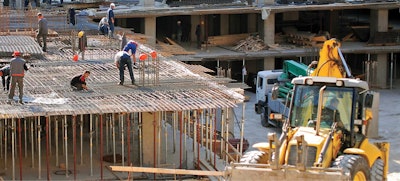 After several years of feedback, the CPWR – Center for Construction Research and Training has launched a new website to provide a one-stop location for the construction industry to connect with safety and health experts and their latest research.

In 2015, CPWR decided to try to corral safety information for the construction industry. Because the industry is so decentralized, such information and solutions were shared within smaller networks but not getting out to the industry at-large. That means "opportunities to share valuable information and collaborate are lost," said Jessica Bunting, CPWR r2p program associate, during a webinar May 24 to launch the online Construction Safety & Health Network.
Bunting said CPWR developed the online network "to improve the connections between individuals and organizations interested in advancing safety and health in construction, and to enhance the collective reach of those individuals and organizations."
Participants in the network include researchers, industry representatives, insurance representatives, government agencies, safety and health professionals, communications professionals, trainers and anyone who wants to share or research construction safety and health information. The network and information posted to the site are open to anyone at no cost. Anyone can also become a member at no cost by completing an online profile.
The site provides articles and other content about construction health and safety. Examples include the National Fire Protection Association's report on fatal electrical injuries at work, articles from OSHA's Safe Workplace + Sound Business Campaign and NIOSH's Sound Level Meter mobile app to measure sound levels in the workplace.
The site focuses on three main components:
Search – Construction health and safety information from a variety of organizations can be searched by keyword and other parameters.
Collaborate – Members on the site can find other researchers and professionals to partner with on projects and research. The site contains a directory of members that can be searched. Members have the option of making their profile public, or they can keep it private and those trying to reach them can do so by emailing CPWR first. CPWR will then serve as a channel to the member being sought. You can also submit an open call for collaborators.
Share – Information can be shared on the site. Submitted articles and other information are first vetted by CPWR before being posted. Those sharing information do not have to be members.
CPWR hopes the site will achieve the following goals:
Provide a central way to share information, materials and solutions to a broader audience.
Increase capacity for taking action and effecting change.
Encourage and provide new opportunities for greater coordination among researchers and stakeholders.
Improve the research community's and industry's ability to respond to emerging hazards.