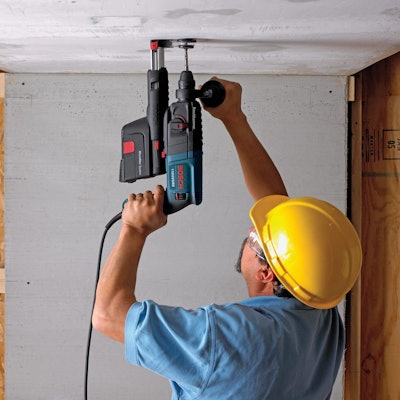 Depending on whom you talk to in the construction, aggregates and paving industries, the three-month enforcement delay of federal silica dust rules is an opportunity to fine-tune the compliance guidelines, or it's a minor speedbump toward excessive government regulation.
The Occupational Safety and Health Administration (OSHA) announced April 6 it would delay the enforcement date for the construction industry's set of rules from June 23 to September 23. The rules require an 80-percent reduction in respirable crystalline silica on average during an eight-hour shift. The goal is to reduce and prevent lung cancer, silicosis and other respiratory ailments caused by overexposure to crystalline silica, a common chemical compound found in rock, concrete and brick.
OSHA says the rule will save more than 600 lives and prevent more than 900 cases of silicosis each year.
The Construction Industry Safety Coalition (CISC), which is fighting the silica rules in federal court, issued a statement saying it welcomed the OSHA delay, but contends the agency should hold off on enforcing the rules for at least a year. About a month before OSHA announced the delay, the CISC sent a letter to then-acting Labor Secretary Edward Hugler calling for a one-year enforcement delay.
"Construction employers across all trades are finding compliance extremely difficult if not impossible for many job tasks," the letter says. "…These challenges are compounded by OSHA's failure to issue meaningful guidance on several key aspects of the standard.…
"The rule imposes burdensome ancillary requirements regarding exposure assessment, respiratory protection, medical surveillance, hazard communication, recordkeeping and housekeeping."
The coalition consists of 25 construction trade and related organizations, including Associated Builders & Contractors, the American Road & Transportation Builders Association, Associated General Contractors of America, and the National Home Builders Association.
In announcing the delay, OSHA said it needed more time to provide guidance to the construction industry and to train its staff to enforce the rules. The announcement followed Senate hearings for President Donald Trump's nominee for secretary of labor, Alexander Acosta, who was confirmed for the post April 27. Some have speculated the agency was following other federal agencies that are holding back on enforcing regulations approved under President Barack Obama's administration, as Trump has called for a review of some of those measures.
"We have a new sheriff in town," says Bailey Wood, spokesperson for the National Stone, Sand and Gravel Association (NSSGA). "I think agencies across the board are looking at the rules that the previous administration was trying to rush through.… The Trump Administration is taking a little bit more of a deliberative approach."
The NSSGA is also fighting the OSHA rules in federal court, saying they go too far too fast. The rules call for a reduction in the permissible exposure limit (PEL) from 250 to 50 micrograms per cubic meter of air during an eight-hour shift. Wood says the aggregates industry currently must reduce silica levels to 100 micrograms per cubic meter under U. S. Mine Safety and Health Administration rules. The NSSGA considers that a more realistic standard and says incidences of silicosis—a chronic, progressive lung disease that can lead to lung scarring and difficulty breathing—have dropped 95 percent over the last 40 years.
"We'd like to see OSHA withdraw the rule and revert to an exposure limit closer to what the aggregates industry already has," Wood says. "The levels that OSHA is seeking may not be possible to measure consistently."
But not all industry associations oppose the OSHA rules. The National Asphalt Pavement Association (NAPA) and the American Concrete Pavement Association (ACPA) both say their members are prepared or becoming prepared for the silica rules, and they have been involved in developing guidelines and machine engineering controls.
"The compliance issue is not insurmountable," says Bill Davenport, ACPA vice president of communications. "I don't think I've heard anybody (among ACPA membership) say that it's going to be overly burdensome."
Carter Ross, NAPA vice president of communications, said the enforcement delay is a good thing if it leads to more compliance guidance for the construction industry.
"There may be parts of the rule that are contentious," Ross says. "But all in all, the rule is there to make sure employees are not overly exposed to a known human carcinogen."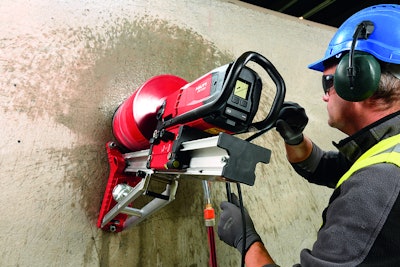 Clean machines
From handheld drills to drivable cold planers, manufacturers have been responding to their respective industry's needs to comply with the silica-reduction rules.
OSHA has given three compliance options for employers in the construction industry. The first option is set out in Table 1 of the regulations, which outlines the type of dust-control measures for equipment and what, if any, respiratory protection workers must wear.
Several tool manufacturers have responded with product launches this year to meet Table 1 requirements:
Hilti introduced its TE-CD and TE-YD Hollow Drill Bits to be used with its VC 20-U or VC 40-U wet and dry vacuum cleaners. Dust is sucked through the hollow bit into the vacuum. Hilti says its new DD 250 Diamond Coring Tool also complies with Table 1 of the silica rules for wet drilling applications.
Bosch responded with its GBH18V-26 rotary hammers, which feature a dust extraction attachment, the GDE 18V-16 Professional, which automatically turns on when the drilling starts and cuts off two seconds after drilling. It operates on its own motor, which is powered by the hammer battery.
DeWalt's Perform & Protect lineup includes dust extractors that work in tandem with shrouds or cowling on the tool. Its cordless DustX+ Anchor Installation System uses a hollow drill bit that allows dust to be sucked into a vacuum.
On the other end of the Table 1 spectrum are drivable milling machines of a half-lane or larger. When cutting asphalt, according to Table 1, they must be equipped with exhaust ventilation on drum enclosure and supplemental water sprays designed to suppress dust.
NAPA has worked with manufacturers through a partnership with the National Institute for Occupational Safety & Health to develop engineering controls, says Ross.
"Our members don't have to think about it much, because the machines that they are going to be purchasing and the availability of retrofits will help them be in compliance with Table 1 of the rule," he says.
Employers who do not or cannot follow Table 1 rules have two other choices: They can provide "objective data" to prove they meet the rules or they can establish an air-monitoring program.
What's next?
OSHA declined to comment further on the enforcement delay but said in its April 6 news release that it plans to enforce the rules come September 23.
Industry groups fighting the rule in court say they will continue their federal appeals, as well as push for a one-year delay.
So it's likely that more uncertainty is in store for the construction rules for silica between now and September 23 and possibly beyond that date. All eyes will be on the new labor secretary over the ensuing months to see whether he steers OSHA's approach to the rules.