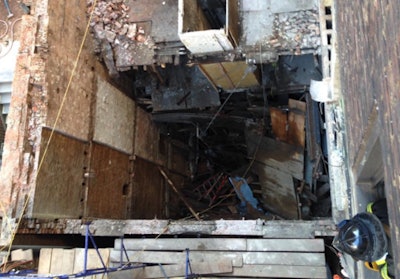 One worker was killed and another suffered serious injuries when a building partially collapsed as crews performed demolition work in Manhattan at the end of last month.
According to a report from the Associated Press, 26-year-old Pedro Bacilio was killed when a portion of a five-story town house in Midtown collapsed Oct. 30. DNAInfo New York reports Bacilio and 29-year-old Kairo Garcia were working on the first floor of the structure for Northeast Interiors Specialist when the building collapsed "into a V shape."
While first responders were able to remove Bacilio's body from the debris upon arriving, Garcia was trapped "at the very point of that V" FDNY Commissioner Daniel Nigro told DNAInfo. At the end of a long rescue operation, Garcia was freed with with "serious injuries to his lower extremities."
The AP reports that the day before the collapse "an engineer on the project requested…that the work cease until the building could be shored up better." Inspectors told the AP that Fortuna Reality Group, the owner of the building where a boutique hotel is being built, had the proper permits for the demolition work.