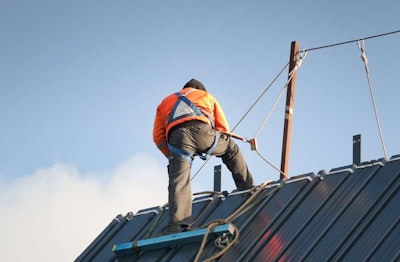 The U.S. Occupational Safety and Health Administration has rejected fall safety standards crafted by the Arizona state legislature. Residential construction sites must now adhere to federal fall safety standards instead.
According to a report from the Phoenix Business Journal, OSHA rejected the state's own standards on February 6.
The site reports the state set its own standards for fall safety in 2012 in response to OSHA's, saying the federal standards would be too costly for home builders to implement.
With the rejection of the state's standards, workers on all jobsites will be required to wear a safety harness when working at heights above 6 feet. The state standard didn't call for a harness until 15 feet.
The Home Builders Association of Central Arizona told the Journal that the federal standards are actually more dangerous, "because residential construction sites use wood, which doesn't make a strong anchor point for workers to tie off their harnesses."
OSHA will be monitoring Arizona jobsites to ensure contractors are abiding by the federal standards. "It baffles me. Why would an industry not want to provide the best protection for workers? I don't know," said Zachary Barnett, OSHA's Phoenix office director.
Falls are the number one cause of death in the construction industry. During 2013, the most recent year with complete data, five Arizona construction workers died from falls.