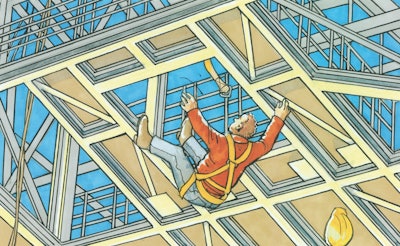 Of OSHA's Fatal Four accidents—falls, struck by object, electrocution and caught in/between—falls are the most deadly. Of all construction accidents, falls account for a third of construction fatalities. If you're working at heights, here are six tips to prevent falls on the jobsite:
Personal fall arrest system
If you're working at a height that could cause you to fall more than 6 feet, use a fall arrest system. The system may include a deceleration device or body harness, and safety nets can also be used in conjunction with the system.
Cover holes
If you're working near a floor opening, ensure the hole is covered with an appropriate cover that is color-coded and marked "hole" or "opening." If you're working near a window opening, make sure a standard guard rail is in place.
Extra eyes
If you're loading, unloading or moving equipment such as an aerial lift while elevated, the risk increases. Use a spotter to alert you to any terrain related conditions that could cause the machine to tip.
Implement controls
If you know in advance there's a hazardous area on the jobsite, erect barriers to prevent lifts and other machines from entering. Travel at slower speeds, particularly when on uneven ground.
Appropriate training
Before working at heights, you should complete fall protection training, which will include hazard recognition, following proper procedures and the method for correct hook-up, anchoring and tie-off techniques.
Risk analysis
Prior to beginning work, the company's competent person will have completed a jobsite analysis that will indicate any problems or hazards. Familiarize yourself with the plan so you will know what could pose a danger for you.