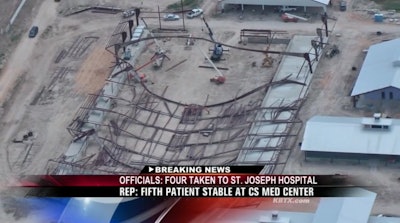 The collapse of an equestrian complex currently under construction about a mile from the Texas A&M University main campus in College Station left four construction workers injured, one critically, reports CBS News.
The collapse happened around 11 a.m. Saturday with between 25 and 30 workers at the scene. According to College Station news station KBTX, workers were "in elevated positions tying steel together" as part of the construction of a 35-foot-tall, 300-foot-wide barn.
Officials have yet to determine what caused the collapse of the frame.
After the collapse the search for injured had to be halted at one point due to concerns over a potential second collapse. The men were trapped until about 11:18 p.m.
Houston-based Gamma Construction is building the equestrian complex.