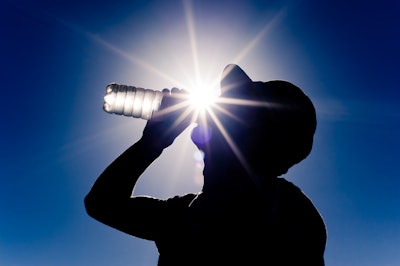 With the temperatures slowly picking back up, our sister site Total Landscape Care has posted a fairly exhaustive list of some great tips for avoiding heat-induced illness.
The tips come from OSHA and cover everything from heat stress, to proper clothing, fluids and food.
The tips spend a good amount of time stressing the importance of being able to identify heat stress. According to the tips there are three main types of heat stress including heat cramps, heat exhaustion and heat stroke. You can identify heat cramps by the feeling of painful spasms while heat exhaustion is felt as weakness, fatigue and dizziness.
Of course, heat stroke is the most dangerous and results after body temperature rises to high.
To avoid these illnesses, the tips suggest wearing a hat and clothing that is loose, light-colored and is made of moisture wicking material. You should also drink plenty of fluids—that's a no-brainer but definitely one people forget—and remember to take more breaks during a day of higher temperatures.
There are plenty of more tips including what to eat, how to identify heat stress in your co-workers and what to do in an emergency, so be sure to read the full article over at Total Landscape Care.