By Amy Materson
 Editor's pick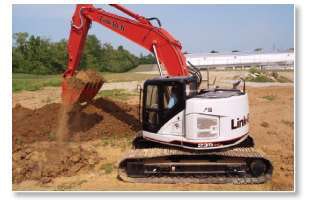 FUEL SAVER
Achieve better fuel efficiency with Link-Belt's 235 X3 Spin Ace minimum swing radius excavator, which features a Tier 4 Interim Isuzu engine that delivers 17.5 percent improved fuel efficiency when compared to the previous model, the 225 Spin Ace. The 235 X3 Spin Ace also has 15 percent more lift capacity, 7 percent faster cycle times and improved serviceability. A new fuel management system includes advancements in engine electronics and the hydraulic system, controlling consumption by lowering engine rpm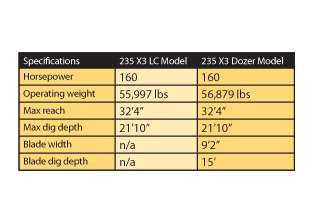 during non-critical functions. The excavator has an 8-percent larger cab with enhanced visibility and a 7-inch LED color monitor. The ROPS cab has a standard rear-view camera, a fuel consumption gauge on the monitor, newly designed joysticks with a single-swipe wiper function and an easy-to-access fuse box. The display messages can be programmed for 20 languages, and programmable service interval reminders track 13 different service items.
Visit EquipmentWorld.com/info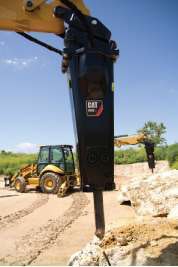 MAINTAIN CONSTANT POWER
Eliminate blank firing with Caterpillar's H75Es and H95Es hammers, designed for backhoes and small excavators. The H75Es delivers 1,000 foot-pounds of energy at 840 to 1,650 blows per minute, and the H95Es delivers 1,500 foot-pounds at 700 to 1,260 blows per minute. Both hammers feature automatic shutoff, which stops the hammer when the tool breaks through the material, increasing hammer reliability and durability. Sound suppression is also standard. The gas-fired system maintains constant power between service intervals, and the hammer's housing has a curved profile to not only eliminate stress points, but also allow the hammer to curl and tuck under the backhoe loader boom without damage.
Visit EquipmentWorld.com/info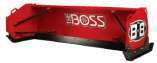 PRODUCTIVE PLOW
Simplify snow removal with the Boss B-8 and B-10 box plows for skid steers, which feature a universal coupler system. The plows measure 8 feet 4 inches and 10 feet 4 inches, respectively, and connect easily via two hydraulic couplers. Both models have trip-edge design to protect the plow and the skid steer from system makes the box plow easier to maneuver.
Visit EquipmentWorld.com/info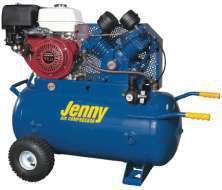 HIGH PRODUCTION
Experience high capacity air delivery with Jenny Products' Model W11HGB-30P, a two-staged wheeled portable air compressor equipped with an 11-horsepower Honda GX-Series engine that produces 21 cfm at 100 psi or 17.6 cfm at 175 psi. The compressor has a gas engine, high capacity pump and includes a powder coated 30-gallon air tank. The belt-driven unit has a large flywheel and special unloading valves that enable easy startups and, combined with a directional air shroud, helps reduce pump temperature. Standard features include a manual tank drain, pressure relief safety valve, pneumatic throttle idle control, two fully pneumatic tires and lifting handles.
Visit EquipmentWorld.com/info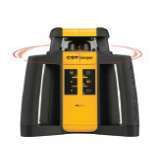 USER-FRIENDLY FEATURES
Choose from several kit configurations with the RL25 Series of self-leveling rotary lasers from CST/berger, which provides accuracy, durability and extended range. The lasers have a 2,000-foot working range and 3/32-inch leveling accuracy. Variable speeds range from 1, 150, 300 and 600 rpm, and variable scan angles include 10, 25 and 50 degrees. The RL25 Series has single axis slope control that allows users to quickly change the slope for complex leveling applications, and an anti-drift system alerts users when the laser drifts from the benchmark. Available in an exterior and interior/exterior version, the laser has a glass-enclosed top housing that protects the laser from extreme weather and a thick over-mold that protects impact areas in drops up to 3 feet. The laser has an IP56 rating and is water and dust resistant.
Visit EquipmentWorld.com/info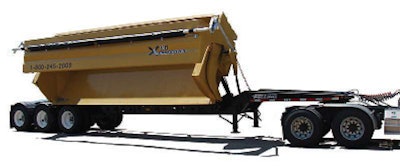 DUMP WHILE MOVING
Haul a variety of materials with Felling Trailers' X55 Cross/Over Dump trailer, which holds 28.5 cubic yards at full capacity. The trailer, which has a 43-foot 9-inch length and 102-inch width, has 70 percent of its weight over the chassis, minimizing the potential for rollover. The X55 dumps while moving or stationary; the weight distribution avoids torque in the king pin and keeps the operator from feeling movement in the tractor during dumping. The trailer can dump at a 55-degree angle, and easily dumps material prone to sticking.
Visit EquipmentWorld.com/info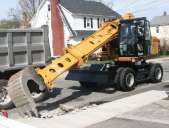 NO OUTRIGGERS NEEDED
Tackle any terrain with the Gradall XL 5300 III wheeled excavator, which offers a 33-foot 10-inch reach and a 24-foot 7-inch max dig depth. The 51,216-pound machine has a 25,405-pound rated bucket breakout force and a 24,941-pound rated boom force. The XL 5300 III can work at the front, rear or either side of the undercarriage without the use of outriggers, and will not damage concrete or asphalt surfaces. A four-wheel-drive transfer case delivers power from the hydraulic drive motor to the drive axles, which have wet-disc brakes. Available attachments include excavating buckets, grading blades, boom extensions, grapples and more.
Visit EquipmentWorld.com/info
CONVENIENT COMPACTORS
Restore trenches quickly with Doosan's plate compactors, which have a flat top mount design for attachment to different carriers via a machine-specific cap. The PCX64, for use with DX140LC excavator, has a 23-inch baseplate width with 6,400 pounds of force and 2,000-vpm compaction frequency; the PCX114, for use with the DX140LC, DX180LC, DX190W, DX210W, DX225LC and DX255LC, has a 27-inch baseplate, 11,350 pounds of force and 2,000-vpm frequency; and the PCX220, for use with the DX255, DX300, DX350, DX420, DX480 and DX250, has a baseplate width of 32 inches, 2,100-vpm frequency and 22,000 pounds of dynamic force.
Visit EquipmentWorld.com/info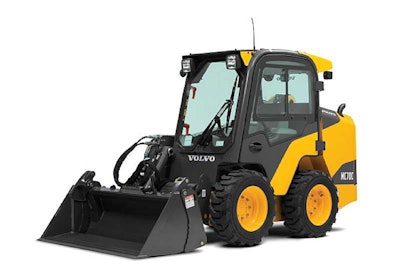 SINGLE LOADER ARM
Volvo's C-Series line now includes the MC70C skid-steer loader, a radial arm lift unit that features a 1,550-pound rated operating capacity with a 3,100-pound tipping capacity. The single loader arm design offers improved visibility while effectively distributing the load. The MC70C has safe side access, with no need to climb over the attachment. Other new additions to the C-Series include the radial lift MC60C and vertical lift MC85C and MC95C skid steers and the MCT85C compact track loader.
Visit EquipmentWorld.com/info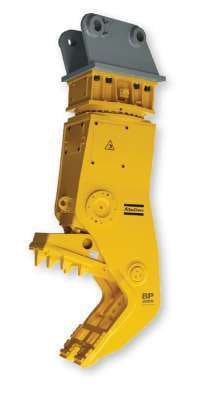 SPEEDY DEMOLITION
Use fewer bites during demolition with Atlas Copco's BP 2050 and BP 3050 bulk pulverizers, which generate high constant power at the jaw tips to cut down time on the job. The jaw also helps cleanly separate rebar and concrete, and simplifies feeding material. Both the tooth-plate and cutting blades are field-replaceable. The bulk pulverizers, which are available for 18- to 35-ton class carriers, can be equipped with a 360-degree hydraulic rotation device for ceiling and wall demolition.
Visit EquipmentWorld.com/info