By Mike Anderson and Amy Materson
EDITOR'S PICK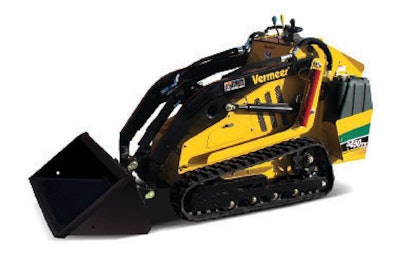 Mini skid tackles small jobs
Perform a wide range of small jobs with the S450TX mini skid steer from Vermeer, which has a four-pump hydraulic system to power attachments. The S450TX has a 500-pound operating capacity with a 1,430-pound tipping capacity, a 24.8-horsepower Kubota diesel engine and a single pilot-operated joystick integrated into the platform. A standard 9-inch-wide track delivers reduced ground pressure, improving flotation and stability, and a spring-cushioned platform keeps operators above mud or debris. A rear panel and side shields offer convenient service access.
Visit equipmentworld.com/info
The whole package – intelligently
Connecting the entire construction workflow, the new Leica iCON – intelligent construction – serves as an umbrella for the entire Leica Construction program, including: iCONstruct, tailor-made hardware and software solutions for positioning and measuring tasks on site; iCONtrol, communicating between construction personnel on site and a portfolio of machine control solutions; iCONsult, a support network with guidance on intelligent construction benefits; and iCONnect, using wireless data transfer for easy, fast and secure connection of the system to a superior network. The iCONstruct toolbox includes custom positioning solutions specific to building and site construction.
Visit equipmentworld.com/info
Redesigned telehandler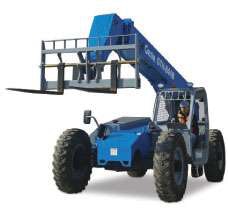 Improve visibility and serviceability with the GTH-844B telehandler from Genie, which features a 44-foot maximum lift height, 28-foot maximum reach and 8,000-pound gross lifting capacity. The lift capacity is 6,000 pounds at maximum height and 2,000 pounds at maximum reach. Additional features include a Tier 4 Interim diesel engine, new ergonomic operator's station, and a narrow 96-inch width. The engine position has been changed from center-rear mount to right side mount, and either a Deutz or Perkins engine is available. The GTH-844B will replace the GTH-844 model and will be available in the fourth quarter of 2012.
Visit EquipmentWorld.com/info
Tough tablet
Eliminate environmental exposure worries with Panasonic's Toughpad A1, a 10-inch professional grade Android-powered tablet specifically designed for use in rugged applications. The customizable tablet features a high brightness, 10.1-inch XGA multi-touch, daylight viewable screen, and has a military rating for drops and resistance to dust and water. The Toughpad A1 offers optional 4G (LTE or WiMAX) mobile broadband as well as Bluetooth v2.1 + EDR, 802.11a/b/g/n Wi-Fi and satellite GPS, and will be available Spring 2012.
Visit EquipmentWorld.com/info
Simplify equipment loading
Load cargo efficiently with the 16,000-pound-capacity Lo Riser trailer from Advance Metalworking. The inclining platform trailer has a 74-inch by 16-foot load carrying platform that hydraulically lowers to ground height via a control switch. A built-in ramp and no crown point ensures smooth, drive-on loading and unloading, and a minimum 4-degree angle accommodates low ground clearance machines. Constructed of high strength low alloy steel, the trailer has a 19,850-pound GVWR for a 4-to-1 payload to trailer weight ratio. The trailer package includes six D-ring tie downs, diamond high strength low alloy steel plate flooring, bolt-on pintle hitch with four-position height adjustment, a large lockable storage compartment, LED lighting with a 7-pin connector, a loadV check safety system and electric brakes on both axles.
Visit EquipmentWorld.com/info
Compact on grade
line of double-drum ride-on rollers feature an increase in vibration frequency and rolling speeds, as well as a 42-percent gradeability improvement when compared to competitive models, says the company. The product line includes four models – the VMT38-130, VMT380-140, VMT430-130 and VMT 430-140 – with a front-mounted engine, tapered front frame design and a new ergonomic operator's station. The 51-inch-wide drum models offer a 7.8-foot turning radius and the 55-inch-wide drum models have an 8-foot turning radius. Three working modes with a detented throttle control provide three frequencies, while a lower weight and more efficient vibrator design delivers up to 5-percent fuel savings over the previous models, the VMT390 and VMT500. A larger fuel tank provides 4 to 8 hours additional working capacity between refills.
Visit EquipmentWorld.com/info
30 more inches of reach
Achieve an additional 30 inches of reach with your M-Series E55 compact excavator with
the extendable arm option from Bobcat. When retracted, the arm delivers comparable force to a standard arm, but may be extended for trench clean out, dumping spoil or truck loading, and minimizes machine repositioning. The option also enables the operator to use a hydraulic clamp for picking and placing material. A rocker style thumb switch located on the joystick operates the extendable arm cylinder. The arm allows for the use of up to 16 different attachments and accommodates the optional Hydraulic X-Change mounting system.
Visit EquipmentWorld.com/info
Pump 213 cubic yards per hour
By placing the 270-degree Z-fold at the tip section, Schwing provides operators of the new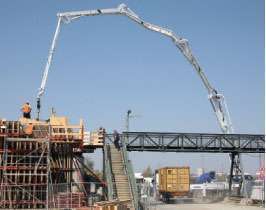 five-section S 43 SX concrete pump with enhanced boom maneuverability while placing concrete up to 138 feet 8 inches vertically and 125 feet horizontally. Managed by the standard Schwing vector control system, the RZ boom design – combining features of the Roll and Fold and the Z boom types – provides 918 degrees of total articulation. A slewing range of 740 degrees suits the new five-inch-pipeline concrete pump to applications ranging from light commercial to bridges and infrastructure. It can pump 213 cubic yards per hour. For jobsite maneuverability, Super X outriggers telescope out and around obstacles without extending past the truck's front bumper. When set up, the S 43 SX requires an outrigger spread of only 27 feet 3 inches – both front and rear. An unfolding height of 28 feet 6 inches provides vehicle access to low overhead conditions.
Visit EquipmentWorld.com/info
A light solution
Metal halide lamp technology allows the CPLT M10 light tower to use less power to turn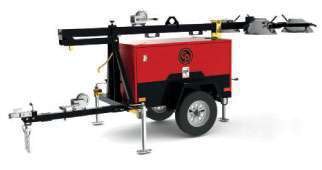 electrical energy into more light, says Chicago Pneumatic. Powered by a Kohler engine with a brushless alternator, the light tower's four 1,000-watt lamps can illuminate up to 7.5 acres. The mast extends to a height of 31-plus feet and can be rotated 360 degrees. A 30-gallon fuel tank provides up to 70 hours of run time. Weighing 1,800 pounds, the CPTL M10 light tower collapses to dimensions of 182 by 48 by 66 inches for transport. The MIG-welded, unibody-style trailer is equipped with a standard 2-inch ball tow hitch.
Visit EquipmentWorld.com/info