Cat E-Series excavators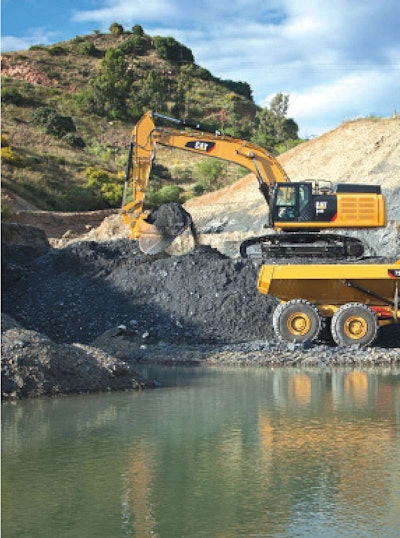 Maximizing fuel efficiency and making service easier
Cat applied the E-series treatment to four models of excavators: the 324 E, 329E, 336E and the 349E. They all replace the same size D-series machines.
Outside the four have common rearview cameras and layered sheet metal engine access doors. These seamless doors are more rigid than solid metal, but lighter in weight and less prone to rusting. Side-by-side radiators with swing out modules and top access make clean out easier. The coolant sample port and drain valve have been relocated for easier, ground level access, and you have quick drain systems for engine and hydraulic oils. Up top, a lightweight composite engine hood opens across the entire width of machine for full access to the DPF and top-of-the-engine service points.
New 7-inch, in-cab LCD display monitors are 40 percent larger than previously and can display two rear view camera images at once and track up to three separate cameras. Seat choices include heated and cooled options.
For power, the 324E and 329E tap into a Cat C7.1 engine that features a redesigned cylinder head, new turbocharger, common rail fuel system, high pressure injection pump, electric priming pump and new fuel lines that permit the use of up to 20 percent biodiesel.
The new powerplant gives the 324E 3-percent more horsepower than the D model and up to 5-percent greater productivity, while dropping fuel consumption 5 percent. The 329E gets 13-percent more net horsepower, lower fuel consumption and 5-percent more lifting power.
The 336E runs off a C9.3 engine that delivers 11 percent more power and 4-percent faster cycle times, and in the heavy lift mode greater hydraulic pressure ramps up lift capacity by 4 to 6 percent. A big C13 engine powers the 349E and delivers an average of 5-percent better fuel economy in average applications.
On all three engines, electronic control of the engine maintains a constant speed regardless of load. An operator programmable automatic idle switch shuts down the engine after it has been idling for a set period of time, and a one-touch idle button ensures you don't use any more rpms than you absolutely have to have to do the work.
Cat squeezes a little more fuel efficiency out of its E-series excavator systems with variable speed cooling fans and fuel savings modes: high power, standard and economy. Hydraulic efficiency is boosted by shortened hydraulic hose routing, which reduce losses from friction. Electric regeneration valves also captures and recycles hydraulic energy when the boom is lowered.
Additional
• Positive pin retention tracks are optional on 349E.
• Boom and stick potentiometers plus a position-sensing cylinder let you guide your work, showing your display monitor the real time position of the depth and slope of your bucket tip. This can also be upgraded to 3D with a Cat AccuGrade system.
• Programmable time-delay lights improve safety getting off the machine at night.
• Light packages include halogen and high-intensity discharge options.
CAT E-SERIES BY THE NUMBERS
324E
Horsepower: 195
Weight: 55,396 to 65,827 pounds
329E
Horsepower: 232
Weight: 63,310 to
69,752 pounds
336E
Horsepower: 313
Weight: 79,133 to
85,288 pounds
349E
Horsepower: 425
Weight: 105,381 to 117,506 pounds