By Amy Materson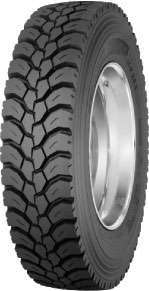 MINIMIZE DAMAGE
Michelin Americas Truck Tires' X Works XDY commercial truck has a robust tread design that offers a 10-percent mileage improvement over the company's XDY3 tire, and the directional tread improves mud evacuation. The on- and off-road tire features Co-Ex Technology, which combines chip and tear resistant compounds on the top layer with a cool base tread layer. Thick sidewall protection helps eliminate damage.
Sizes available:
• 11R22.5 and 11R24.5
Visit EquipmentWorld.com/info
EDITOR's PICK
POWER BOOST

Improve productivity with Volvo Construction Equipment's G900B-Series generation of motor graders, offering a high blade down pressure via optimal machine balance and component distribution. The series includes four models, all of which have new large displacement Tier 4 Interim engines with EGR technology that deliver more power and torque than the models they replace. The standard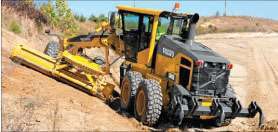 Volvo HTE840 transmission has eight forward gears/four reverse gears, while the optional HTE1160 transmission has shuttle shift and 11 forward/six reverse gears. Two pinions driven by twin directing acting hydraulic cylinders give the circle turn system high output torque, enabling moldboard rotation at any load. Cabs offer dual steering systems, industry-standard pattern controls with low effort, low stroke levers and an unobstructed line of view to the moldboard, over the front frame and to the sides and rear.
Visit EquipmentWorld.com/info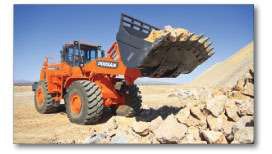 RUGGED ROCK BUCKETS
Handle severe digging and loading applications with Doosan's rock buckets, available in 4-, 4.5- and 6-cubic-yard heaped capacities. The 4- and 4.5-cubic-yard buckets measure 128.9 inches wide and 54 inches high and the 6-cubic-yard bucket measures 136.2 inches wide and 68.5 inches high. The buckets have a spade nose design, standard weld-on teeth and pin-on mounting.
Visit EquipmentWorld.com/info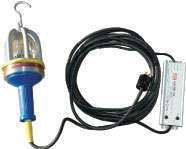 LOW-VOLTAGE LIGHT
Larson Electronics' low-voltage 7-watt Magnalight work light provides operators a bright source of LED illumination suitable for locations where flammable vapors or gases are present. The EHL-LED-120X12-100 has an inline power transformer that allows a step down from 120-VAC current to 12-VDC for low voltage applications. The Magnalight produces more light than a 100-watt incandescent hand lamp and includes 100 feet of cord to increase mobility. A straight blade plug connects to standard outlets, and the lamp can be used outdoors and in damp areas. Additional features include a durable housing, rubber bumper guard and aluminum swivel hook.
Visit EquipmentWorld.com/info
EASY OPERATION
Weld in the shop or on the jobsite with Lincoln Electric's Power MIG 180 Dual, which has single phase 60-Hz dual 120- and 208-/230-volt input power capability. The welder handles both MIG and flux-cored gas-shielded or self-shielded processes. Operators can transition between the input voltages by attaching the power cord and twisting the locking nut, with no tools needed. The unit welds up to ½-inch steel with self-shielded flux-cored wire and has a wire feeder speed range of 50 to 500 ipm and 30- to 140-amp output range on 120 volts, or 30 to 180 amps on 208/230 volts. The welder includes a standard MIG gun and has a detachable canvas bag.
Visit EquipmentWorld.com/info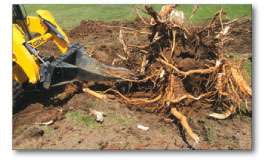 SLICE STUMP ROOTS
Dig deep under roots with CEAttachments' Edge Stump Removal Bucket for skid steers, which has three 23-Series cast steel teeth. The quick attach tilts so the bucket's side teeth cut through roots and help lift the stump from the ground. A 1/2-inch laser cut funnel -shaped steel bucket scoops up and carries heavy rocks, and a 1-inch-thick cutting edge digs trenches and excavates ditches. The Edge bucket measures 62.5 inches long by 46 inches wide by 20 inches high.
Visit EquipmentWorld.com/info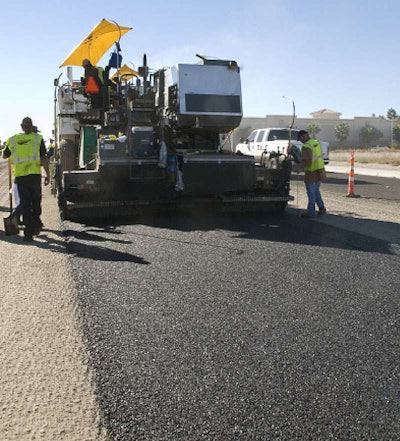 TURNKEY KIT
Simultaneously track a range of signals with the Champion Instruments TKO GNSS RTK Base/Rover kit, which has dual integrated UHF and GPRS modems. Using a Maxwell 220-channel GNSS board, the turnkey kit allows simultaneous tracking of GPS L1, L2E, L2C and GLONASS L1 and L2 signals. The kit offers support of the GPS L5 and multiple Galileo signals. The TKO base/rover can fix up to 20 satellites in less than five seconds and can hold a repeatable fix in areas without reliable RTK netVwork coverage. The kit comes with MicroSurvey's FieldGenius and can handle drops, dirt, water and extreme temperatures.
Visit EquipmentWorld.com/info

FIGHT FATIGUE
Eliminate joints and welds during horizontal directional drilling applications with the 700 and 1000 Series HIWS1 drill pipe from Hunting Trenchless, designed for Vermeer Series II directional drills in the 36,000- and 100,000-pound classes. Using a durable one-piece forged design, the pipe's double shoulder design handles increased torque while the precision machined threads resist fatigue. Hunting HIWS1 pipe has a large inner diameter for increased fluid flow.
Visit EquipmentWorld.com/info
BOOST CLEARANCE
Save installation time with Parker Chelsea's 892 Series PTO designed for maintenance trucks, which also offers maximum clearance for the 4700 Series transmission. The Series features six speed ratios, eight output types and six shift options. The PTO also has a Wet Spline System that lubricates the mating PTO and pump shafts to increase component life.
Visit EquipmentWorld.com/info

TRANSPORTABLE FUEL STORAGE
Simplify transporting diesel fuel to remote jobsites with Transcube's XT line of high capacity diesel fuel tanks, which are transportable while full. The XT line includes the TCT100, with a 2,450-gallon capacity, and the TCT200, with a 5,000-gallon capacity. The tanks have a cylindrical inner tank specially designed for diesel transport, and internal baffles reduce fuel surges during transport or while being move on a jobsite. The tank's outer wall ensures 110-percent secondary containment. The tanks have four feed and return connections and a fuel pump or auxiliary equipment feed. A 2-inch fill pipe provides quick tank refilling, and a three-point locking system prevents tampering or theft.
Visit EquipmentWorld.com/info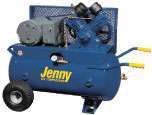 POWERFUL UNIT
Run multiple tools simultaneously with Jenny Products' electric powered J5A-30P single-stage air compressor, which has a 30-gallon air tank. The compressor has a 5-horsepower electric motor that requires a 230-volt power source. A four-cylinder J pump produces 19.4 cfm at 100 psi or 19 cfm at 125 psi. A directional air shroud and large flywheel keeps the pump's temperature low. Standard features include a manual tank drain, safety relief valve, stainless steel braided discharge hose and a large canister tank with replaceable filter elements.
Visit EquipmentWorld.com/info