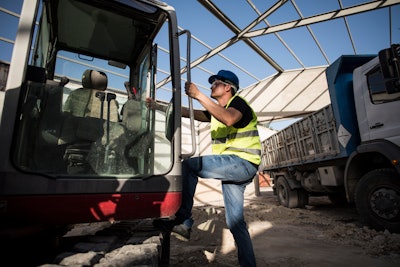 Getty Images
The U.S. Department of Labor has announced a proposed rule that would alter overtime regulations, and it is meeting objections from a national construction association.
The proposal would ensure overtime pay for most salaried workers earning less than $1,059 per week, or about $55,000 per year, under the Fair Labor Standards Act.
"We are committed to ensuring that all workers are paid fairly for their hard work," said Jessica Looman. U.S. Department of Labor principal deputy wage and hour division administrator. "For too long, many low-paid salaried workers have been denied overtime pay, even though they often work long hours and perform much of the same work as their hourly counterparts."
She said the proposed rule would ensure that more workers receive extra pay when they work long hours.
The proposed rule is the result of extensive outreach to employers, workers, unions, and other stakeholders, she said. This also included the department holding 27 listening sessions with more than 2,000 participants to gather information.
Meeting opposition
Changes to overtime rules have been made over the past seven years with varied results.
In 2016, the Obama administration issued a rule that would have doubled the minimum salary level for overtime exemption from $23,660 to $47,476 per year.
Several business groups, including the Associated Builders and Contractors, sued the DOL and blocked the rule from taking effect.
Another rule was issued in 2019 by the Trump administration, formally rescinding the 2016 rule and readjusted the minimum salary level for exemption to $35,568 per year.
For the current proposal, ABC and more than 100 other organizations working with the Partnership to Protect Workplace Opportunity wrote to the DOL secretary in May urging its abandonment or at least postponement. They argued that the last update was only three years ago.
ABC cited the ongoing difficulties construction contractors are facing with inflation, supply chain disruptions and worker shortages.
"Unfortunately, the DOL did not listen to our repeated requests to abandon or postpone the issuance of the proposed overtime rule until the current economic situation stabilizes or improves, allowing employees and employers to fully navigate the paradigm shift of work in America without new unnecessary and costly red tape," said Ben Brubeck, ABC vice president of regulatory, labor and state affairs.
What the proposal does
The DOL says that, as proposed, the rule:
Restores and extends overtime protections to low-paid salaried workers. Many low-paid salaried employees work side-by-side with hourly employees, doing the same tasks and often working over 40 hours a week. But because of outdated and out-of-sync rules, these low-paid salaried workers aren't getting paid time-and-a-half for hours worked over 40 in a week. The department's proposed salary level would help ensure that more of these low-paid salaried workers receive overtime protections traditionally provided by the department's rules.
Gives workers who are not exempt executive, administrative, or professional employees valuable time back. By better identifying which employees are executive, administrative, or professional employees who should be overtime exempt, the proposed rule will better ensure that those who are not exempt will gain more time with their families or receive additional compensation when working more than 40 hours a week.
Prevents a future erosion of overtime protections and ensures greater predictability. The rule proposes automatically updating the salary threshold every three years to reflect current earnings data.
Restores overtime protections for U.S. territories. From 2004 until 2019, the department's regulations ensured that for U.S. territories where the federal minimum wage was applicable, so too was the overtime salary threshold. The department's proposed rule would return to that practice and ensure that workers in the U.S. territories subject to the federal minimum wage have the same overtime protections as other U.S. workers.
Upon publication in the Federal Register, the notice of proposed rulemaking will be open for public comment for 60 days. The department says it will consider all comments received before publishing a final rule.