Why Do Construction Contractors Struggle to Attract Talent? Operators and Managers Weigh In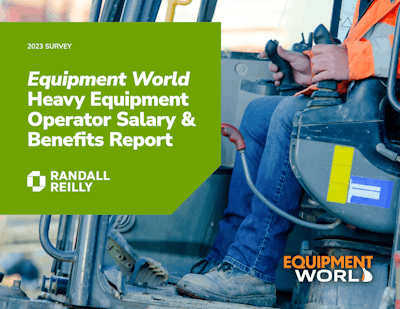 Glean valuable insights from the latest Equipment World survey to find out the average heavy equipment operator salary and benefits for construction equipment operators in the United States in 2023.
The survey, conducted by Equipment World, was taken by 343 construction industry professionals from April 3-21, 2023. Of those, 208 were heavy equipment operators, and 135 were managers of heavy equipment operators. Responses that did not fit the job title criteria were not included in the results, and the observations drawn from the results were limited to responses from qualified individuals only.
Participants across the U.S. answered more than 20 questions about pay, benefits, training, and workforce development.
An overwhelming 77% of operators and 84% of managers of operators say the younger generation's lack of work ethic is the biggest reason companies are having difficulty finding talent. And it's leaving the current workforce spread thin. But not all of the comments placed the blame squarely on younger generations. Some pointed to a lack of awareness of construction as a viable career option and a lack of training for young workers.
As the labor gap continues to increase, as is predicted, contractors will need to consider proactively training new employees, paying more for the ones they have, adopting more technology to bridge the skills gap or all of the above and more.
Despite those challenges, the overall tone of the free comment section made it clear: there's a lot to like about being a heavy equipment operator, with several respondents saying some form of, "I love what I do, and I wouldn't be happy doing anything else."
Download the research to access insights on:
Equipment operator salary and benefits
Heavy equipment training and career advancement
Factors considered when choosing a new job
Why construction companies are having a hard time finding heavy equipment operators today
Fill out the fields below to download the results of the comprehensive survey to see how your wage and incentive packages stack up to make better, more data-driven decisions in operator recruiting and retention efforts.