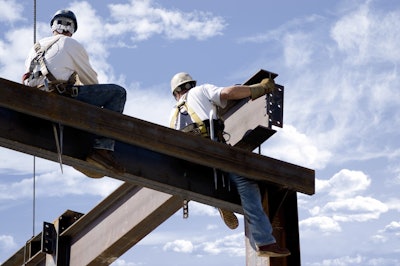 The U.S. construction industry lost 15,000 jobs in March, snapping a seven-month-long streak of employment gains.
The industry's employment total now sits at a seasonally-adjusted annual rate of 7.150 million Americans and is up 3.3 percent over the March 2017 total, according to preliminary data from the Labor Department.
Construction's unemployment rate fell from 7.8 percent to 7.4 percent in March.
The snapped seven-month streak of job gains included the largest gain seen in the last 11 years in February. That gain grew even larger with the March jobs report, which included a revision of the February total from the previously reported addition of 62,000 jobs up to 65,000 jobs.
The U.S. economy added 103,000 jobs in March while unemployment remained at 4.1 percent.
Construction employment since Jan. 2008