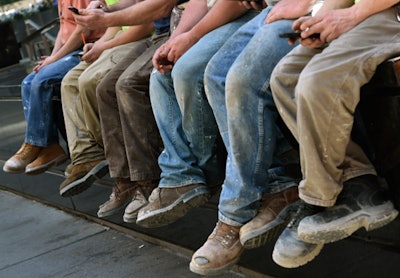 Construction employers added 24,000 jobs in November and 184,000 over the year – yet the need remains high for more workers to fill open positions, according to the Associated General Contractors of America.
Employment in construction jumped to 6.955 million jobs in November – the highest level since November 2008, according to an analysis of new government data by the association. Hourly earnings rose 2.9 percent as the sector worked to attract new workers.
Association officials say tight margins are keeping firms from paying even more to attract hard-to-find workers. They say efforts to cut tax rates could help lead to higher average hourly earnings for the sector, with proper reforms enacted.
"Employment and pay in construction have risen more rapidly over the past year than in the economy overall, as the supply of unemployed, experienced workers continues to shrink," says Ken Simonson, the association's chief economist. "With unemployment so low overall and in construction, contractors are likely to have increasing trouble filling many types of hourly craft and salaried openings."
On Wednesday, Associated General Contractors of America and Sage will release their national and state construction hiring and business forecasts. The forecasts, which are based on a comprehensive survey of construction firms nationwide, will include predictions of the scope of construction hiring, layoffs, labor market conditions and the impact of tax reform, possible new infrastructure investments and trade policy changes on the sector.
In a media call, the association's CEO, Stephen Sandherr, and chief economist Kenneth Simonson will explain the significance of the forecasts for broader economic and employment growth. Sage Vice President Jon Witty will discuss the survey's information-technology findings.
They will outline steps that Congress and the Trump administration should take to help support continued construction growth in 2018. Check back with Equipment World for further coverage of this next week.
Unemployment rates down
The number of unemployed job-seekers with recent construction experience fell to 467,000 in November, down from 517,000 in November 2016.
The unemployment rate in construction dropped to 5 percent last month from 5.7 percent a year earlier, the association says. These declines show how difficult it has become for the industry to find experienced workers, Simonson notes.
Average hourly earnings in the industry climbed to $29.17, a rise of 2.9 percent from a year earlier. That was a steeper increase than for the total private sector, which rose 2.5 percent to an average of $26.55 per hour. The economist points out that construction pays workers nearly 10 percent more per hour than the average nonfarm private-sector job in the United States.
Construction officials say that one reason construction wages have not grown more rapidly is the historically low profit margins for most construction projects. That comes as firms cope with increased regulatory compliance costs, higher health care costs and robust competition for work, the association says.
Properly enacted tax reforms could help
Proposed tax reforms could potentially lower tax burdens for all employers, which would help construction firms hike wages as recruit workers amid the tight labor market conditions, the association says.
"Given current labor market conditions, it is reasonable to assume that many construction firms will take advantage of tax cuts to boost pay and benefits," says Stephen E. Sandherr, the association's chief executive officer. "Increasing wages should attract more young people into the industry, while boosting overall economic activity."
---
By the numbers:
Construction employment totaled 6,955,000 in November, a gain of 24,000 for the month and 184,000, or 2.7 percent, over 12 months.
Year-over-year growth rate in industry jobs was nearly twice the 1.4 percent rise in total nonfarm payroll employment.
Residential construction—comprising residential building and specialty trade contractors—added 14,800 jobs in November and 85,900 jobs, or 3.2 percent, over the past 12 months, the association said December 8.
Nonresidential construction (building, specialty trades, and heavy and civil engineering construction) employment climbed by 8,600 jobs in November and 97,700 positions, or 2.4 percent, over 12 months.

Source: Associated General Contractors of America.