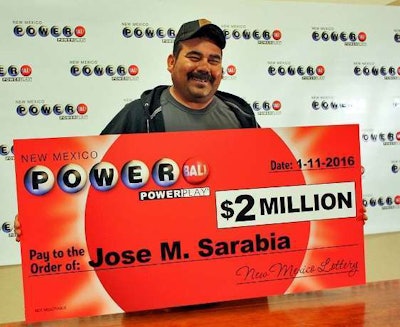 A New Mexico construction worker says he nearly walked away from the ticket that has made him $2 million richer following the Jan. 6 Powerball drawing.
According to a report from KOAT TV, Jose Sarabia hails from Texas but works in Loving, New Mexico. Deciding to buy a Powerball ticket, he stopped into a Chevron station in Loving.
And when the clerk accidentally printed two lottery tickets out, the station reports, she tried to sell it to Sarabia's friend who said he didn't want it. So, Sarabia decided to go ahead and purchase it.
It was an extra $3 well spent as that very ticket proved to be a winner.
Sarabia, who collected his prize Jan. 11, told the station he plans to pay off his home and vehicles as well as helping his parents and donating some of the money to his church.