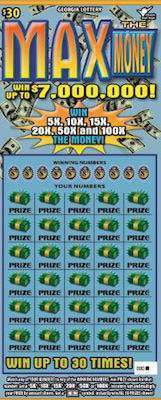 A lottery ticket that runs $30 a pop might be more gamble than most are willing to make, but the bet paid off big time for a construction worker in Georgia earlier this month.
According to a report from the Atlanta Journal-Constitution, Mark Clayton of Suwanee purchased a "Max the Money" scratch off ticket and won its top jackpot—a cool $7 million.
Clayton claimed his prize on May 18.
Earlier this year, two other construction workers, one in New York and another in North Carolina, hit the lottery within days of each other. The New York worker won $5 million from a $20 scratch-off.