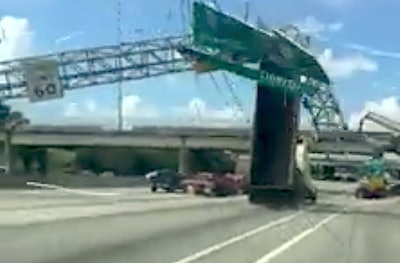 Dramatic video shot Aug. 24 in Houston prior to the flooding and destruction of Hurricane Harvey shows a tractor-trailer with a raised dump bed tearing down a large sign trestle on the East Loop of Interstate 610.
The driver's condition remains unknown. Video below posted by Carlos Escobedo on Facebook shows the elevated bed tearing through the sign, raining debris onto the busy highway. Traffic was shut down in the northbound lanes until late Thursday night. (Warning: The video contains graphic language.)
The incident comes less than three weeks after a similar incident in Florida where a dump truck's raised bed collided with an overpass, doling out structural damage to the bridge.
The Texas Highway Patrol tells us that neither the Lone Star State nor the federal government requires dump body safety switches on commercial vehicles. Such switches alert the driver when the bed is in a raised position. A PTO alarm can also warn drivers.
While dump body alarms are not required by federal agencies that typically deal with vehicle safety issues, such as the Federal Motor Carrier Safety Administration and the National Highway Traffic Safety Administration, they are required by the Occupational and Safety Health Administration (OSHA), according to the National Truck Equipment Association (NTEA).
"We are not aware of any specific federal requirements," Summer Marrs, director of communications and public relations at NTEA, said. "The following is as close as it gets for a federal requirement, which comes from OSHA's construction regulations: 'Operating levers controlling hoisting or dumping devices on haulage bodies shall be equipped with a latch or other device which will prevent accidental starting or tripping of the mechanism.' CFR 29 Part 1926.601 (b)(11)
"Some states may have more specific requirements for a 'body up' indicator, and those would normally be prescribed in the respective motor carrier safety requirements for commercial vehicles operating in a given state," Marrs continued. 
Dump body safety switches are relatively inexpensive and can prevent needless accidents that have proven deadly and costly. A quick search on Google revealed four suppliers: Best Truck Equipment, Buyers Products, Control Products, and DiCAN in Ontario, Canada.
Neither the Houston police nor the FMCSA were able to respond to media requests by deadline. NHTSA said that it does not handle commercial vehicle issues, such as the one involved in Thursday's accident.
Bucket trucks and other equipment with lift features have also been involved in collisions where the PTO was left engaged.
Special thanks to DiCAN for posting the Raised Box Accident Compilation video on their website. You can watch it below.