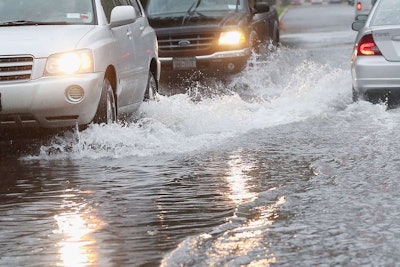 More than 500 roads covering a large portion of southeastern Texas are closed due to flooding from Tropical Storm Harvey, according to the Texas Department of Transportation.
The affected area extends north from Corpus Christi along the coast up to Port Arthur and extends west through and beyond Houston.
Harvey initially made landfall Friday as a Category 4 hurricane and has continued to drench the Texas Gulf Coast region even though the center of the storm has, as of Tuesday morning, returned over the Gulf of Mexico. However, the storm is expected to make landfall again as early as Wednesday after which it is forecast to move slowly across Southeast Texas, bringing more flooding and high winds.
The Houston area has seen the majority of the storm's rainfall with the National Weather Service reporting that more than 40 inches of rain have fallen upon the city in the last four days. It's possible that some areas of the Houston region could see as much as 50 inches.
The TxDOT has asked people to stay off the roads until conditions improve and that warns that it is against the law to drive around barricades at flooded roads.
DriveTexas.org has posted an interactive map showing road closures in the state due to flooding from the storm. You can also go to TxDOT's Highway Conditions page to check on specific roads and their conditions.
Gov. Greg Abbott of Texas has declared 54 counties in the state as disaster areas and activated the entire Texas National Guard, about 12,000 personnel, to assist flood rescue efforts. More than 40 inches of rain has fallen in the Houston area in the past three days, with peak flooding slated for Wednesday or Thursday.