For those that want to rock crawl and hit the off-road trails in a smaller pickup, Ford has unveiled the Ranger Tremor. We've got all the details on this new 4×4 equipment package in the video below.
---
---
Ever since Ford brought back the Ranger here in North America, folks have been asking the automaker to do what it did on the half-ton F-150 and deliver a configuration built specifically for off-road performance. They've been asking for a Ranger Raptor.
There's also been some clamoring for a whole Raptor lineup made up of Ranger, F-150 and Super Duty Raptors. And while Ford has rolled out a Ranger Raptor in the Asia Pacific region, a truck manufactured in Thailand, it's not available here in North America.
The Super Duty Raptor meanwhile remains but a dream.
But that doesn't mean the cries for more Raptor pickups has fallen on deaf ears. After all, you could argue that it was a big reason Ford resurrected the Bronco as not just single SUV but a three-model lineup (with maybe more on the way) that looks a whole like a sub-brand within the company designed to take on Jeep.
And last year Ford unveiled the Super Duty Tremor, a package available on F-250 and F-350 pickups aimed at giving those trucks serious off-roading and rock-crawling capabilities, while not decreasing towing and payload capacities.
It might not be a full-on Super Duty Raptor. But it is a very nice equipment and styling package from the factory. And it was met with considerable interest and, dare I say, excitement. And now, Ford has also unveiled a Tremor package for the Ranger with the same focus on added capability without hurting towing and payload.
Now, you might be thinking, doesn't the Ranger already have an off-road package? And you'd be right. For roughly $1,300 the Ranger FX4 package adds monotube shocks, off-road tires, a locking rear differential, a steel front bash plate, and skid plates for the steering motor, the transfer case and the fuel tank.
But the new Tremor package goes further.
For starters, the Tremor gives you a lifted suspension. The Fox 2.0 monotube shocks with this package are tuned for both off- and on-road driving. They feature rear piggyback reservoirs, hydraulic rebound stops, and a multi-leaf rear spring setup for increased wheel travel.
Ford is also including redesigned front knuckles on the Ranger Tremor along with 32-inch Continental General Grabber all-terrain tires wrapped around 17-inch wheels.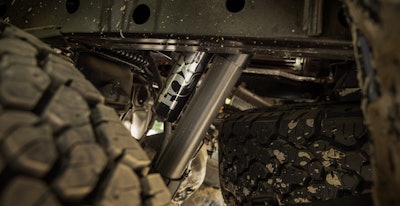 So, one result of this added equipment, specifically the wheels and tires, is that the Ranger Tremor has a very slightly wider stance. It's one inch wider than the standard Ranger.
But when you tally up the effects of all of that hardware, the more important results are a 9.7 inches of ground clearance—up almost an inch over the base SuperCrew 4×4—a 30.9-degree approach angle—up 2.2 degrees—a 25.5-degree departure angle—up 0.1 degrees—and a 24.2-degree breakover angle, up 2.7 degrees.
Plus, front suspension travel has increased to 6.5 inches while rear suspension travel has increased to 8.1 inches.
Apart from the core upgrades, you still get the locking rear differential and the front bash plate and skid plates that come on the FX4 package.
But you'll also get two recovery hooks in the rear in addition to two up front. Plus, Ford has included new hoop steps that allow debris and liquid from accumulating while also not impeding on the truck's ground clearance.
There are a few styling cues special to the Tremor package a well. For starters the wheels and grille surround are painted a gunmetal like shade that Ford calls "Magnetic." You'll also get special Tremor badging on both sides of the box and you can opt for a hood and body graphics package that adds more personalization to Ranger Tremor if that's your thing.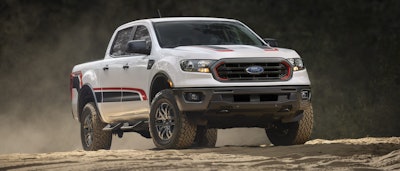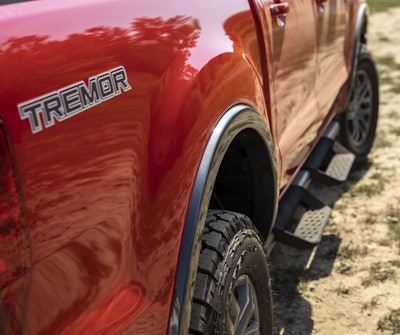 And just so everyone remembers that this is a Ranger Tremor once they get inside, "Tremor" is stitched into the seatbacks.
All of that gets you a pretty nice boost in terms of capability and a few extra styling pieces over the base 4×4 package and the FX4 package. But it's also a considerable price jump. The Tremor package is available on 2021 Ranger XLT and Lariat trucks with the SuperCrew 4×4 configuration and is priced at $4,290.
It looks like the package is limited to one drivetrain option as well: Ford's 2.3L EcoBoost and 10-speed transmission. That engine provides 270 hp and 310 lb-ft of torque.
The Tremor is just an equipment package whereas the F-150 Raptor we have today and the Ranger Raptor Ford sells overseas are both completely different models with purpose built-frames.
And because of that, adding Raptor variants across all three truck lineups would be a tremendous cost. To take that leap, Ford would have to be absolutely certain that it would sell a lot of each. So, for now, the Tremor seems to have become Ford's meet-me-in-the-middle-response to those asking for a Raptor Ranger or Super Duty.
The Tremor package provides a nice leap in functionality over the base 4×4, while still not breaking the bank for you or Ford.