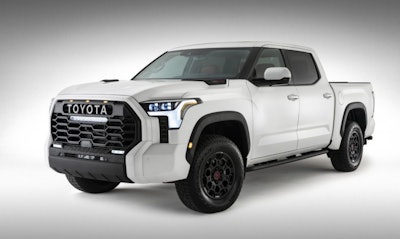 Toyota
Toyota released a full shot of its all-new 2022 Tundra which is getting mixed results among enthusiasts.
That image, which is getting a lot of attention because of the truck's redesigned front-end, is part of a slow-paced reveal that kicked off in May and includes an interior shot released Tuesday (posted below).
But it's the obvious changes on the front-end--namely a large grille--that's getting a lot of attention. The 'Toyota' nameplate is higher on the 2022 TRD Pro than the 2021 model and the faux hood scoop found on preceding Tundras is gone which may explain the larger grille (see 2021 TRD Pro photo below). Going from faux air to big air may reel in more of the form and function crowd some of whom have been buying kits to open those scoops up to outside air.
The 2022 model also appears to have air intakes below the headlights which the outgoing model doesn't have. Could that all be a sign of an air-hungry, supercharged engine? Wait and see...wait and see.
Additional lights, including a large light bar in the middle the grille, suggest that the fourth gen Tundra will win over critics that have complained about lackluster lighting in the past.
"Speaking of lights. No more Halogen! Thank god! Nice detail with the bolts etc. inside the housings," posts a forum user on Tundratalk.net.
Additional camera presence in the grille suggests more high-tech safety features and helpful camera angles. Marker lights hint that this is a wide 1/2-ton much like the Ford F-150 Raptor and Ram TRX.
So is the truck appealing enough for enthusiasts thus far? Yes, but not by much according to Tundras.com, a popular Tundra forum. Roughly 60 percent of poll respondents on Wednesday said 'yes' to what they've seen of the truck so far, while 40% gave a thumb's down.
One long-time contributor on Tundras.com summed up the sentiment of the thumbs down crowd.
"Wading through the initial comments here and on various truck related & non-truck related sites, most do not like the appearance of the new front end. Toyota may have disenfranchised a large number of potential buyers with their new plastic superstructure front bumper / grille on this Tundra. We shall see. And I guess Toyota had to design a massive front end / grille & bumper for the 3rd gen Tundra to compensate for the smaller package under the hood."
That user may be referring to a twin-turbo V6 which many think will be offered up as the latest engine to out-gun the long-standing, gas hogging 5.7-liter V8.
Toyota has yet to confirm the powertrain though the company has said that it plans to step up vehicle electrification. A photo and video released last week of the 2022 Tundra appeared to show an orange cable near the firewall. Large orange wiring is typically indicative of high voltage applications like those found in hybrids and EVs.
In the meantime, other Tundra enthusiasts are waiting to learn more before they commit to casting a vote.
"I want to see the powertrain before I get very interested," writes a contributor on Tundratalk.net. "Is it a turbo-six or maybe a hybrid? For me a plug-in hybrid would be very interesting."
If Toyota wants to truly excite the truck crowd and compete with other oversized half-tons, then it's going to have to load up on plenty of power, suspension, advanced truck tech and interior delight. As far as power goes, plenty of jaws would drop if a supercharged V8, a hybrid V6 and a twin-turbo V6 were included in the engine lineup. Toyota reintroduced the Supra for high-performance fans, and at a time of 702-hp stock OEM trucks courtesy of the Ram TRX, it's hard to rule anything out. A hybrid also makes sense at a time when fleets and consumers have become more interested in lowering emissions.
This latest TRD Pro is obviously trying to flex some serious muscle and it will need big power to back that up. Though a wide-body design looks like a serious competitor, it may not be the hottest choice for pickup drivers in tighter, metro areas or where garage space is a concern. It's hard to imagine Toyota not offering consumers and fleets a slimmer choice much like Nissan continued to do after rolling out its larger Titan XD in 2015. A bigger truck also suggests more towing and payload capabilities. Tundra has sat at 10K max towing for several years now.
As far as the interior goes, a shot released Tuesday shows a center display screen similar to one found in the automaker's higher-end Lexus brand. Judging by screen indicators, it looks like the truck's compatible with Apple CarPlay and Android Auto. Small JBL speakers can be seen on the A-pillars. Looking up near the rearview mirror, there's an interesting icon with the word 'OFF' next to it. Looks like that could be an 'airbag off' indicator since the truck's shown on a dirt road. But the icon appears to be different from others Tundra has used in the past. Thought it seems too early to suggest that Toyota has brought self-driving to Tundra, new automated driving features can't be ruled out given the company's ongoing dedication to same.
The 2022 Tundra could very well embody the company's once-in-century changes noted by Toyota Research Institute CEO Gill Pratt in a whitepaper released by the automaker last August.
"As Toyota President Akio Toyoda has said, 'The automotive industry is facing sweeping, once-in-acentury changes.' They are driven by innovations in four technology categories – Connected, Automated, Shared and Electrified – each with its own challenges and opportunities," Pratt writes.
After reading through that whitepaper, imagining a Tundra with a powerful hybrid powertrain and impressive self-driving features doesn't seem so far fetched.