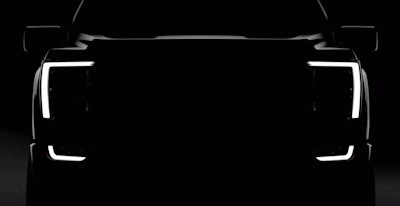 Ford is working to generate more buzz around the upcoming reveal of its next-generation F-150, pushing out a couple of teaser photos of the new truck on social media ahead of the official reveal of the truck on Thursday.
The first image, which you can see above, was released in a short video on the automaker's Facebook and Twitter pages and shows the new silhouette of the redesigned pickup along with what appears to be a new LED headlight design.
The second image which you can see below provides the clearest look at the truck yet with an unobstructed overhead view of the pickup while it tows a boat. From that overhead angle, you get the idea that this could be a fairly substantial refresh in terms of the look of the truck.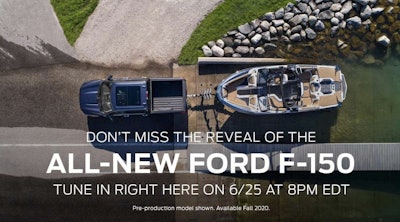 According to most reports however, the majority of the changes with this next generation of F-150 will come inside the cab of the truck with more new technology and comfort features.
Ford will live stream the unveiling of the 2021 F-150 Thursday at 8 p.m. Eastern.