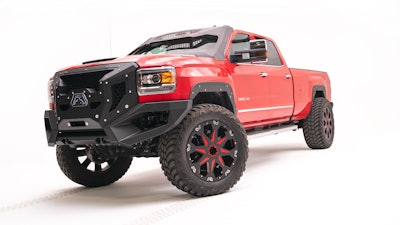 Lifted trucks can present some headaches in terms of handling, towing and bed access.
The Fab Fours Open Fender System for 2015-2019 GMC Sierra 2500 and 3500 trucks enables the addition of a 40-inch tire without a lift.
A leveling kit, which is included, allows the pickup to maintain its factory ride and eliminates the need for a drop-down trailer hitch. Also, since the truck's not lifted, getting in and out of the bed is easier, too.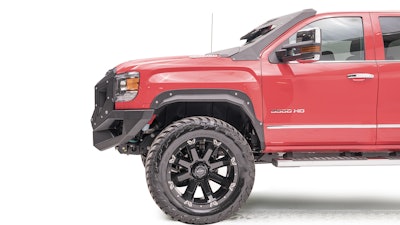 Parts are made from 11-gauge steel and feature a two-stage matte black powder coat with epoxy primer. The kit includes templates, adhesives, drill bits, an installation manual and video.
As seen in the photos here, Fab Fours has also launched two other new products for Sierra 2500 and 3500 models: the Grumper and Vicowl.
The Grumper combines grille and bumper, providing more tire clearance, a winch-ready design, removable inserts for custom color combinations and side-mounting slots for lighting.
The Vicowl combines a roof visor and cowl, providing added windshield protection. A 20-inch light bar insert is an available option.