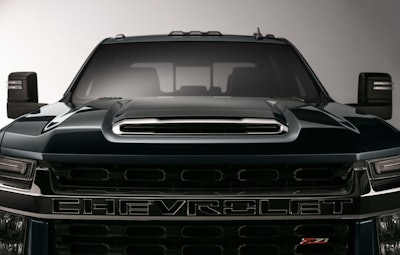 Having already unveiled the redesigned 2019 Silverado 1500 and an all-new medium-duty lineup in the 2019 Silverado 4500, 5500 and 6500HD trucks, Chevy is now teasing the third and final piece of its full truck lineup refresh with a sneak peek at the 2020 Silverado HD trucks.
In a wide-angle shot taken just in front of the nose of the yet-to-be-revealed pickup, we see a new grille design with the 'CHEVROLET' name stamped in full on the center crossbeam. The grille also looks to incorporate split level lighting, with what looks like an LED lamp on top and a larger lamp below the crossbeam.
Just below the grille you can see the Z71 badge.
The final notable design element is the carryover of the functional hood scoop introduced on the 2017 Silverado HD models. You can read our breakdown on the engineering behind that scoop, which goes a long way in ensuring consistent performance of the 6.6-liter Duramax beneath the hood in varying conditions, here.
From what I can see of the new design, it looks a bit taller than the current gen design, and maybe a bit wider, though that might be an effect of the camera angle. Overall though, the new truck has a meaner, muscular and more futuristic look. While the new 2019 Silverado 1500 design has some of the height that this tease suggests, the lines on that truck are a bit longer for a cleaner, more refined design. If this photo is any indication, the look of the 2020 HD trucks will feature a lot of stacked lines to give the truck a Hulked-out look.
In fact, Chevy has said that the truck's design will make the "bolder, larger proportions of the truck…instantly apparent."
Chevy says it will soon begin on-road testing of the 2020 HD models with production beginning in the third quarter of 2019. We'll probably see a full unveil early in the year.