Saying the truck packs "the most off-road technology of any" midsize pickup, Chevrolet has introduced the Colorado ZR2.
The ZR2 started as a concept unveiled by Chevy two years ago and was met with a response resembling something akin to "Please for the love of God sell this truck."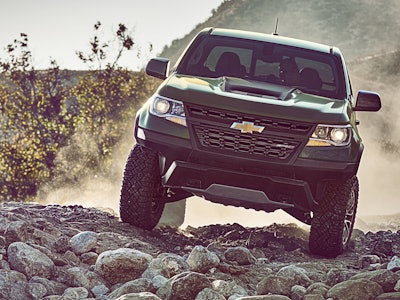 Chevy says response to the concept truck was "so overwhelming the (design) team knew they needed to carry as much of the original design into production as possible." And the production ZR2 appears to be just as serious about real off-roading capability as the concept was. And while it's not quite a Ford Raptor competitor the ZR2 is certainly more than just an appearance package and will give Toyota's TRD Pro some healthy competition.
Featuring a wider track and 2 inches of lift over the standard Colorado, the ZR2 also features a modified exterior design Chevy says is meant to improve the truck's off-road clearance and overall off-roading ability. "The wider, more aggressive stance, modified front and rear bumpers, and even the bed-mounted, spare-tire carrier all improve performance driving over rough terrain," says Rich Scheer, Chevy's director of design for trucks.
The truck's front bumper is tapered at the ends for increased tire clearance and integrates an aluminum skid plate to protect the radiator and engine oil pan. An additional shield protects the transfer case.
The truck rides on 17- x 8-inch aluminum wheels wrapped in 31-inch Goodyear Duratrac off-road tires. A bed-mounted spare tire carrier is an available option.
Steel-tube, functional rocker protectors are standard equipment and are "strong enough to protect the body side while dragging the truck against a rock face," Chevy says.
Front and rear electronic locking differentials come standard and are a midsize class exclusive to the ZR2, Chevy says. The ZR2 is also the only midsize off-road truck with an available diesel engine in the 2.8-liter Duramax delivering 181-horsepower, 368 lb.-ft. A 3.6L V6 delivering 308 hp and 275 lb.-ft. of torque comes standard.
According to Chevy, another first on this truck is the first off-road application of Multimatic Dynamic Suspensions Spool Valve dampers. These DSSV dampers are typically used in motorsport vehicles and Chevy first implemented them on the 2014 Camaro Z28.
These dampers are designed to provide an off-road ride similar to when the truck is on-road. Here's Chevy's explanation of how they work from their press release:
Compared to deflected-disk valving common on most dampers, the ZR2 employs spool valves that offer increased precision and manufacturing repeatability along with enhanced ride and handling performance both on- and off-road.
The Colorado ZR2's DSSV dampers are position-sensitive. Their aluminum bodies each house two spool valves providing both compression and rebound damping optimized for everyday driving. During extreme off-road use, a third, piston-mounted spool valve delivers additional, uniquely tuned, compression damping. The front dampers also employ a separate rebound valve, which comes into play when the suspension approaches full extension.
The ZR2 can tow up to 5,000 pounds and carry 1,100 pounds of payload. It's available in the following nine drive configurations:
2WD
2WD, locked rear differential
Auto 4WD
Auto 4WD, locked rear differential
4WD Hi, locked transfer case
4WD Hi, locked transfer case and locked rear differential
4WD Lo, locked transfer case
4WD Lo, locked transfer case and locked rear differential
4WD Lo, locked transfer case, locked front and rear differentials