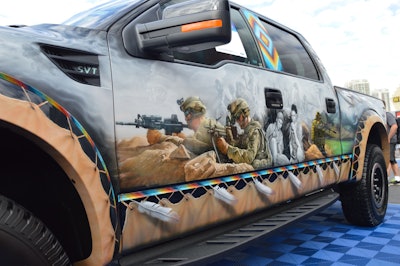 Military themes run throughout the 2016 SEMA show and you won't find any better demonstration of the depth of this feeling than this awesome project.
The Million Pixel Raptor project is a fundraiser for the Wounded Warriors Family Support organization. The project is selling off 10 x 10-pixel blocks of the images on the truck for $100 donations. The person to buy the last remaining block will win this very special 2014 Ford F-150 Raptor.
Depicted on the Raptor are painted scenes of the Navajo Code Talkers, Native American history, combat aircraft, World War II and today's high-tech combat warriors. The scenes were hand painted by airbrush artist Mickey Harris. Harris painted the truck in three levels.
Level one, in gray tones, shows the history of Native Americans and the warrior spirit and connection to nature. Level two represents the military service of Native Americans with portraits of notables such as Ira Hayes, Pappy Boyington, Ed McGaaa and the Navajo code talkers. Level three comes in with full color renditions of our modern warriors recognizing that Native Americans on a per capita basis have served in our armed forces more than any other group.
The Wounded Warriors Family Support organization is a nationally recognized military charity founded in 2003 by Col. John D. Folsom USMCR (Ret) to help the families of our combat wounded. See wwfs.org for more information.
All net proceeds received from the Million Pixel Raptor will be used to fund programs that will support and sustain our Native American veterans and their families. Ninety-seven percent of the donations will be dedicated to this program.
Take a look through our gallery of photos of the Million Pixel Raptor and then check out their website for more information.