Thanks to a white-hot freight market, trucking companies this year have ordered new trucks at a record pace.
North American Class 8 orders for March reached 46,300 units – the third highest month on record according to FTR. The 133,900 heavy-duty trucks ordered in the first three months of the year nearly doubled the amount from the same period last year and is largest order total of any quarter in history.
"The current capacity crisis may be the worst ever," says Don Ake, FTR vice president of commercial vehicles. "Capacity is extremely tight and expected to remain this way for months. Fleets need more trucks to handle huge freight demand and continue to order trucks at record setting rates."
Without an influx of new drivers, new trucks are going to push older models to a used truck market that is already saturated with equipment. Chris Visser, commercial truck executive analyst at J.D. Power's Valuation Services, says auction volumes through March were up, although not as high as he expected.
"Sellers are looking for additional ways to move their inventory," he says.
Auction numbers were stronger than expected for four to six year old trucks, but Visser says he expects the supply of used trucks to ramp up in the coming months and remain elevated into 2020 based on Class 8 truck deliveries dating back to 2013.
"That should be coming in any day now and I expected it to be making a bigger impact than it has, at least so far," he says. "There's still an oversupply of used truck and I don't see that getting better."
Is it a buyer's or seller's market?
With supply of used equipment outweighing demand, Drew Backeberg, general manager of Daimler Trucks remarketing, says many fleets have extended their trade cycles to wait out the challenging used truck market, "which has resulted in high-mileage trucks entering the secondary market."
However, under the right conditions, Mike McMahon, strategic accounts sales manager at Ritchie Bros. Auctioneers, says it's a sellers-market depending on the inventory and what kind of equipment is available.
"Depending on the age of the unit and the miles on the unit, there's been a little bit of an uptick on pricing compared to what we've seen last year," he says, adding some newer units are beginning to filter into the market fresh off 36 month Fair Market Value leases.
"Maybe 350,000 or less – or maybe, at times, depending on spec, pushing 400,000 miles – you're really starting to see a lot of people looking for those units and really driving a premium on the used truck marketplace right now."
In the past 18-24 months, the used truck market has seen high supply and declining used truck values. From 2016 to 2017, Backeberg says used trucks were losing between 2-3 percent of their value each month.
"Well beyond normal," he says. "Today, we are experiencing more demand, which is blunting the impact of excess supply and stabilizing pricing. The market is okay today and supports customer trade values, so no need to hold off."
Visser says he expects a depreciation rate of about 2 percent this year, but says pricing to-date has been strong.
In March, the average selling price for a 2014 model sleeper tractor at auction was $35,250. Model year 2013 brought $31,250 and 2012 went for $27,000.
"[Four to six year old] trucks brought about 19 percent more money in the first quarter of this year than they did in the same period a year ago, and that's been the trend for the past 6 months," Visser adds. "If you were selling trucks the first quarter this year versus the same quarter last year, you're making out better the first quarter this year."
Extending trade cycle isolates a segment of the used market looking to upgrade from often much older equipment while also potentially exposing the carrier to higher maintenance costs.
"I think there comes a point with some of the buyers, depending on what they're spending on maintenance and what they're getting for fuel economy and some of the other costs, that getting into a newer piece of equipment does away with some of those extra expenses," McMahon says.
While it may seem counter-intuitive, McMahon says fleets extending trade cycles in hopes of better resell value may actually get higher return on their equipment by entering the marketplace sooner, especially if those trucks have remaining warranty coverage.
"I really think you need to look at having some of that extended warranty on there, whether it's for the engine, transmission or some of the interior options like the electrical system," he says. "That's always a nice selling point whether you've got 50,000 or 100,000 miles left on that equipment where that secondary buyer is going to have some warranty left on there."
Used buyers starting to seek out AMTs, newer aero models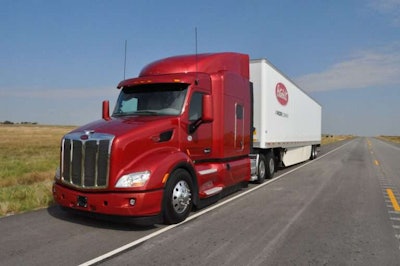 Automated transmissions were detrimental to truck prices for years but Visser says that tide turned about 18 months ago, adding that comparable units spec'd with AMTs are now bringing with them premium pricing.
"Buyers are willing to pay a premium for all AMTs, and not just a Volvo I-Shift," he says. "Things like the [Eaton] SmartAdvantage and UltraShift Plus, those are bringing a premium over a 10 speed manual and that hadn't necessarily been the case across the board."
McMahon says used buyers had been skeptical of AMTs, possibly having already been burned by less-reliable first generation units. However, with AMTs spec'd industry-wide in growing numbers, the last of the holdouts are beginning to reconsider.
"When you look at those secondary buyers who have historically purchased used tucks, usually it takes a little bit more time to accept and adjust to new technology," he says.
"We are seeing the market gravitating toward trucks spec'd with automated manual transmissions, such as the Detroit DT12, and vehicles with sub-400k mileage are in high demand," Backeberg adds.
He says AMTs make up more than 70 percent of new Freightliner and Western Star Class 8 truck builds, adding it's only a matter of time before the used truck market has a similar composition.
"You're starting to see more and more units that care coming back out of service [equipped with an AMT], especially the [model year] '13s and '14s and even the '15s, and customers are accepting them," McMahon adds, noting you can find secondary market warranties for many AMTs on the market.
Newer aero tractors – specifically the Kenworth T680, Peterbilt 579 and Volvo 780 – Visser says are among the most sought after trucks, along with one of the most ordered trucks on the road.
"The Cascadia has held its value better than you might expect given that it's one of the highest volume trucks out there," he says.
For trucks not factory-equipped with aero, Visser says aftermarket add-ons are seeing good return on the used market but McMahon says, "you've got to make sure that stuff is in good condition."
Big bore power still the most sought after, some niche spec's aren't finding return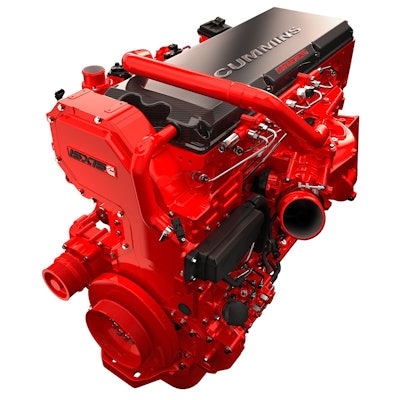 While just about every over-the-road segment can use some form of aero-help, light-weighting options, specifically 6X2 axles and smaller displacement engines, aren't seeing as much bang for their buck among used truck buyers.
Backeberg says used customers are gravitating to 15-liter engines, adding the Detroit DD15 and Cummins ISX15 are spec'd in the vast majority of Class 8 on-highway sleeper trucks the company sells.
Cummins power, with a similarly spec'd Detroit and Volvo engine, is comparable in price on the secondary market, but Visser says Cummins engines are going for a premium versus an International N13 and MX equipped Kenworth and Peterbilt tractors.
"The 15 liter engines really drive the day, whether it's an ISX or a [Detroit Diesel]," McMahon says.
McMahon says trucks spec'd with a 6X2 and light-weight engines have started to enter the used market, but the niche-driven appetite for those trucks isn't bringing top dollar.
"I've seen some folks move away from that now," he says. "I think that had something to do with, originally, on some of that resell value or what residual they were receiving."
New truck build slots are filling up and with capacity tightening and loads sitting on the dock, Visser says he expects more buyers to soon enter the used truck market.
"A late model used truck is a great substitute for a new truck that might not be obtainable right now. It's also a good way to hedge your bet if you don't think you want to invest three to five years into a new truck," he says. "A late model used truck with a couple hundred thousand miles on it still has plenty of life left in it."
Fleets in search of the lowest miles or upper-tier trucks on the used market, Visser says, will find their way to dealers who often keep the best units on their lots.
Retail, like at auction, can still hold bargains on premium trucks. Through February, prices on the retail market have fallen as dealers package multiple trucks together at aggressive price points to get them off their lot.
"A lot of dealers are getting multiple unit packages in and they're willing to take lower pricing to move those packages," Visser says. "We've seen some aggressively low prices for multiple identical trucks."
For fleets spec'ing trucks with resell in mind, McMahon says a 15 liter engine is preferable along with a with a large double bunk sleeper, aluminum wheels, an air-slide fifth-wheel and an upper level trim option.
"If not the nicest interior trim option, the next one down," he says. "That's always a nice selling point," he says.