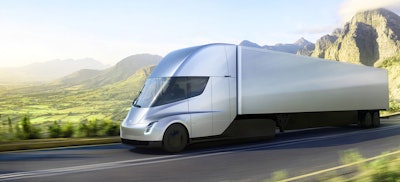 With a style more fitting of Star Wars than Smokey and the Bandit, Tesla's electric semi made its twice-delayed debut Thursday in Hawthorne, Calif., the home Tesla Motors' design center and company founder Elon Musk's SpaceX rocket factory.
Promising a range of up to 500 miles at maximum weight and highway speed, the company says the Tesla Semi consumes less than two kilowatt-hours of energy per mile when fully loaded. Battery capacity wasn't disclosed Thursday night. The company is currently accepting reservations for Tesla Semi for $5,000 per truck with production set for 2019.
Thursday's reveal ended a nearly 15-month-long tease of the Class 8 prototype Musk initially confirmed was in development in July of last year.
Without a trailer in tow, Musk says Tesla Semi features a five second 0-60 time, versus about 15 seconds for a comparable diesel truck. At a full-load of 80,000 pounds, he says the electric truck can hit the 60 mph mark in 20 seconds – about a third of the time of a diesel truck – and adds the truck can climb a 5 percent grade at a steady 65 mph. Most diesel Class 8s, he says, would top out around 45 mph on the same grade.
"We wanted a vehicle that feels incredible," Musk says, "that accelerates like nothing else."
Musk didn't offer torque or horsepower figures for the truck.
Driving environment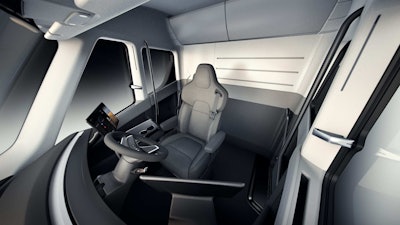 Tesla Semi's cabin wraps around the center-mounted driver's seat.
"You're positioned like you're in a race car," Musk says. "You have complete visibility of the road. It's a beautiful spacious interior."
The entry-point is behind the center-seat and in the daycab configuration, the passenger seat is mounted to the rear wall on the right-side.
Two touchscreen displays, borrowed from Tesla's Model 3 passenger car, are positioned on both sides of the driver and provide easy access to navigation, blind spot monitoring and electronic logs.
There is no instrument cluster facing the driver. Truck data, like speed and air pressure, is fed to the display to the driver's left. The steering wheel is also racecar inspired and much smaller than most on the highway today.
Built-in connectivity integrates directly with a fleet's management system to support routing and scheduling and remote monitoring. Each can be flashed over-the-air via updates as-needed.
The truck's steps are unobstructed, allowing for easier entry and exit. The doors open in reverse, suicide-style, as the company removed the front pillar where the vent-style side windows are now located. Grab handles run from the floor to the top of the door pillar and from the floor to the middle of the door jam, giving it three easy contact points.
The inside is spacious and full standing-height.
The large windshield offers a massive panoramic view and coupled with its large side windows, visibility in Tesla's Semi is unrivaled.
All lighting in the truck is LED, a conversion that was made from bumper-to-bumper. Front marker lights have been moved from the roof to a strip behind the windshield, a nod to improved aerodynamics and the removal of leak points.
The truck's fully electric HVAC system doesn't require idling and the interior features deep sill and door pockets, along with overhead storage compartments and pocket storage along the rear wall.
By eliminating the hum of the engine, Tesla has also eliminated the truck's white noise filter – meaning every other noise stands out even more. To combat that, the company said it trained its focus on ensuring the cab was tightly fit and sealed against creeks and rattles.
The batteries are centered under the truck to lower its center of gravity and give the Semi a more predicable feel, and the air suspension with independent front suspension gives the truck, Musk says, a more comfortable ride.
Electric power supply
Tesla's new high-speed Megacharger DC charging station pumps about 400 miles of range back into the truck in about 30 minutes. Chargers can be installed at origin or destination points — such as at fleet terminals — and along heavily trafficked routes, enabling recharging during loading, unloading and driver breaks.
"400 miles is like 6 to 7 hours of driving," Musk says. "What this means is that when you are done with your break, you'll be ready to go."
Regenerative braking recovers 98 percent of kinetic energy to the battery, giving it a basically infinite brake life. Musk estimates under most cases, drivers will seldom use the footbrake, opting to let the regenerative brake stop the tractor.
Tesla says the Semi's battery is similar in composition to the batteries used in its energy products, and designed to support repeated charging cycles for over a million miles. The truck's motors – two on each rear axle – are derived from those deployed in the Model 3 and offer independent torque control.
Driver safety
Tesla says its Semi's all-electric architecture is designed to a higher safety standard than any other heavy-duty truck on the market, with a reinforced battery that shields the Semi from impact and gives it a low center of gravity. Its windshield is made of impact resistant, explosion proof glass that Musk says resists cracking.
On-board sensors help prevent jackknifing by detecting instability and reacting with positive or negative torque to each wheel while also independently activating the truck's brakes.
"Jackknifing is impossible in this truck," Musk says.
The surround cameras aid object detection and minimize blind spots, automatically alerting the driver to safety hazards and obstacles.
"I can drive this truck and I have no idea how to drive a [semi]," Musk says.
One of the screens in the cockpit features views from cameras mounted under the side mirrors, eliminating the corner blind-spot.
Tesla's semi-autonomous driving platform, Enhanced Autopilot – and its suite of Automatic Emergency Braking, Automatic Lane Keeping, Lane Departure Warning and event recording – will be standard on the truck, which is also platooning-enabled.
Cost of ownership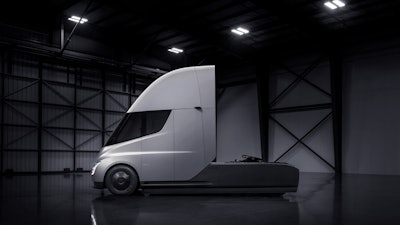 Aerodynamics feature heavily on the Tesla Semi, which Musk says offers a better drag coefficient than a Bugatti Chiron. Rear cab fairings, Musk adds, further streamline aero by adjusting to the type of trailer in-tow to close the gap.
With no engine, transmission, after-treatment system or differential for upkeep, Tesla lauds the Semi's reduced maintenance needs. However, Tesla says the most significant cost-advantage comes from savings in energy costs. Coupled with the low and historically less volatile nature of electricity prices – which average $0.12/kWh in the U.S. and can be significantly less for commercial and industrial users – Tesla says Semi owners can expect to reap upwards of $200,000 in savings over a million miles on fuel costs alone.
Further, Musk guarantees the truck will not breakdown for one million miles. In the event one of the motors does suffer a failure, he says there's little threat to missing a delivery date.
"You can lose two of those four motors and the truck will still keep going," Musk says.
The truck is connected to Tesla Mobile Service and its telematics suite offers remote diagnostics, predictive maintenance, location tracking and communication with fleet dispatch.
Musk estimates the Tesla Semi will provide a $1.26 cost-per-mile versus a $1.51 diesel cost-per-mile. In a platoon, Musk says the Tesla cost per mile drops to .85 cents per mile, making it cheaper than rail.
Entry into a crowded ownership
With Tesla's entry into the market, the Silicon Valley automaker becomes the latest entry into a growing field.
Daimler's Fuso division in October debuted its E-Fuso Vision ONE concept, a Class 8 truck with a range of up to 220 miles. The first all-electric Class 8 to hit the stage, E-Fuso also featured the longest range before Tesla's entry into the market.
Tesla and Fuso aside, a range of about 100 miles has been the standard-bearer in electric commercial transportation, albeit in lighter commercial truck classes.
Unveiled in August, Cummins' Class 7 Aeos Electric Commercial Vehicle Demonstrator – designed and built in collaboration with Roush – features a 140 kWh battery pack and a 100 mile range.
Fuso's eCanter offers a range of 60 to 80 miles using six lithium-ion battery packs, each with 420 volts and 13.8kWh. Up to two additional battery packs can be added to increase operating range to roughly 100 miles.
Chanje's electric V8070 Class 5 panel van uses a 70 kWh battery for its 100 mile range.
Electric power is more prominent in the bus segment and earlier this month, Daimler's Thomas Built Bus division unveiled an electric school bus that features 100-160kWh of battery energy and a 100 mile fully-electric range.
Developed with Volkswagen Truck & Bus, Navistar's chargE is an electric CE Series concept school bus with a range of 120 miles on a single charge due for launch as early as 2019.
Navistar, with Volkswagen Truck & Bus, also plans to develop an electric-powered, medium-duty truck, which could launch as early as 2019.