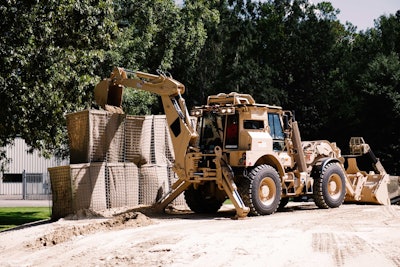 Just weeks after celebrating the production of the 1,000th High-Mobility Engineer Excavator at its North American headquarters in Savannah, Georgia, JCB and the U.S. Department of Defense have announced plans to extend their partnership well into the next decade.
As we described in our recent report on the history of the development of this machine, the HMEE (pronounced HIM-EE) was borne out of the U.S. Army's desire to replace the Small Emplacement Excavator, a truck-mounted excavator with a bad reputation among solider operators, with a capable backhoe that could get quickly get in and out of rugged battlefield positions without having to be hauled there. The Army awarded JCB the initial $209 million contract in 2005 to build such a machine, a contract that funded the production of 636 HMEEs.
The resulting 17.5-ton machines can reach speeds up to 60 miles per hour. Powered by a Cummins 6.7-liter QSB engine, the HMEE can lift up to 2 tons and has a dig depth of 13 feet.
More than 300 HMEEs have produced through contract extensions since that first run, and with plans to add electro-hydraulic controls and remote control capability to these machines, the Army has awarded JCB a $72.8 million contract extension to build another 180 HMEEs through 2020.
To meet the increased demand, JCB says it plans to double the HMEE production rate by mid-2019 and will add 20 positions in Savannah over the next nine months to do so.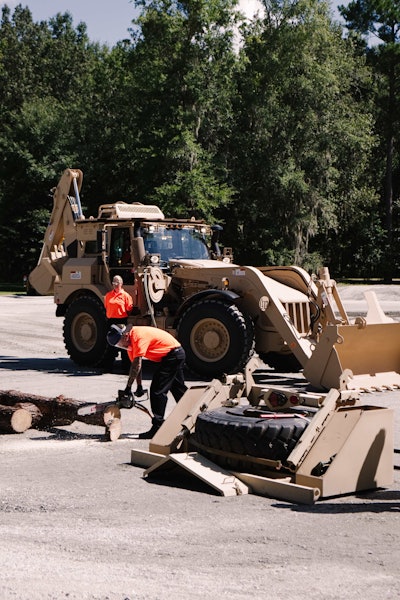 JCB says it expects to reach a multi-year contract in the near future that will further HMEE production into the middle of the next decade.
"The people of JCB are proud to build the construction machines our soldiers need to safely complete their military and humanitarian missions around the world," said Richard Fox-Marrs, president and CEO of JCB North America. "This contract extension is great news not only for the men and women in uniform who depend on HMEEs, but for the many talented JCB people and suppliers in this region who contribute to this program's success."
U.S. and allied troops use HMEEs to clear roads, remove obstacles and block enemy routes near the front lines of combat. An armored version is also available, outfitting the backhoe with armored plates and glass when operating in a hostile battlefield environment, or performing removal of improvised explosive devices, or IEDs. The HMEE can also be outfitted with a range of attachments, and it can provide power to a wide variety of hand tools including chainsaws, concrete drills, jackhammers and more.
Bryan McVeigh, project manager for force protection at the Army, told Equipment World earlier this month that the remote control capability coming in future versions of the HMEE will enhance its IED clearing capabilities and will allow soldiers to operate the machine from a safe distance in dangerous situations.
The HMEE represents one half of the partnership between the DOD and JCB. In early 2017 the Army placed a $142 million order for 1,600 light-capability rough terrain forklifts.