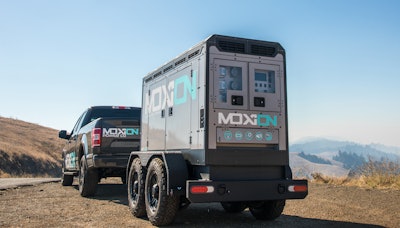 Moxion
It's the first question contractors ask about battery electric equipment.
"How do I charge this machine if I don't want to tow it back to a power source overnight?"
Until recently, the answers weren't very good. But at this year's ConExpo, most OEMs had a solution that fits on a trailer or can be towed. These consist of traditional generators that run off of natural gas (and thus produce less CO2 than diesel generators) or true net zero battery packs with enough kilowatts to charge multiple machines.
Moxion is in this latter category. You may recognize the Moxion name from the announcement just before ConExpo that the company had secured a multi-million-dollar deal with Sunbelt Rentals to deliver more than 600 of their new MP-75/600 portable battery units over the next year. The deal put Moxion on everyone's radar and validated two important trends in the drive to electrification.
One: Rental will serve as the vanguard of electrification, allowing contractors to try before they buy.
Two: Solutions are emerging that will put the temporary power business on the cusp of substantial growth, with construction at the forefront.
The company builds its equipment in Richmond, California, and started producing units for Sunbelt Rentals in April. A second factory will come online in the summer of 2024. "We're vertically integrated, meaning we design, engineer and manufacture all the core technologies that go into these products," says Paul Huelskamp, Moxion's CEO and co-founder.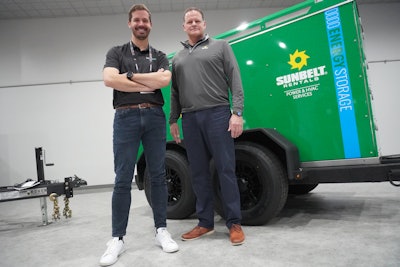 Plenty of power for construction
At its core, the Moxion MP-75/600 is a large, towable 600-kilowatt battery system that puts out 75 kilowatts of continuous power at 480 volts.
"You'll have a hard time finding a product with that much energy storage that's not in a shipping container," says Huelskamp. "We put a lot of effort into packaging our battery modules to maximize energy density and reduce the cost per kilowatt-hour. This product will be capable of powering or recharging pretty much everything on a jobsite with the exception of some of the largest loads – such as certain tower cranes and industrial dewatering pumps," he says.
In addition to recharging battery-electric machines, the MP-75/600 will power jobsite trailers, handheld power tools, and portable welders—anything that needs electricity to run. Huelskamp sees a huge opportunity in temporary power applications across all residential and commercial construction, including public sector work, utility projects, data centers, and e-commerce facilities. "Eventually, the company will have a solution sized for every application on the jobsite," Huelskamp says.
Fast vs slow charge
Moxion's MP-75/600 uses the SAE J1772 charging standard for Level 3 DC fast charging or slower, Level 2 AC charging. This translates into about a 10-hour DC fast charge or a 24-hour AC charge from zero to 100 percent.
"With our product and the intended applications, we don't think we need to chase after ultra-fast charging," says Huelskamp. "Most of our customers have the luxury of charging overnight. There will be some use cases for ultra-fast charging, but these are corner scenarios," he says.
"The battery modules are an integrated part of the system," says Huelskamp. "Our Energy Services business remotely monitors every unit that's on rent with a customer, and we simply swap out units when more energy is needed. In most applications, our units will run for weeks between swaps."
Big plans
Customers can currently rent the MP-75/600 from Sunbelt Rentals or buy units directly from Moxion. The company is also ramping up a new division, Moxion Energy Services, that will revolutionize how contractors and others think about and work with their battery electric systems.
In addition to rentals, sales and support of its mobile battery systems, Moxion Energy Services is opening retail locations across the U.S. to provide energy as a service. "These will be similar to normal equipment rental yards, but at each location, we'll have a high-power grid connection, charging infrastructure, carport-style solar systems, and a fleet of our mobile batteries," says Huelskamp. "We charge the units at these locations and deliver them to customers who need temporary power."
Currently, Moxion has two Energy Service locations in Los Angeles and the San Francisco Bay Area, with plans to open at least five more next year, and hundreds over the next decade. "Launching new locations will be one of our core competencies," says Huelskamp.
"We have a robust product development roadmap that consists of smaller batteries, larger batteries, power-oriented products, and long-duration, energy-oriented products," he says. "There are several exciting market opportunities that are nascent today, such as mobile EV charging and behind-the-meter storage. They are on the horizon and will be a massive adjacent market opportunity for us."
The demand for green
In the next few years, it is likely that the customers of construction services, such as hospitals, schools, and corporations, will start asking contractors what they can offer in terms of low-carbon, near-zero, net zero or green construction solutions, especially in markets like California.
Government agencies may also require (as California did back when diesel emissions were being reduced) that contractors use the "Best Available Technology," or BAT when entering bids. Rental of battery-electric equipment and a temporary charging solution can be a quick answer to that request without requiring substantial capital outlays.
Moxion is focused on construction, film, utility applications, as well as live events such as music festivals, concerts, golf tournaments and sports venues. "Those are the four big verticals for us at the moment," says Huelskamp.
When the levee breaks
"Areas hit by fires, floods, hurricanes, tornadoes and other natural disasters will benefit from our products and services as well," says Huelskamp.
In fact, the idea for a portable electric power solution came to Huelskamp during one of the power outages that occurred due to Northern California's recent wildfires. "Power was being shut off regularly. We didn't have electricity for days, and generators were popping up everywhere," says Huelskamp.
The fact that nobody had yet come up with a solution to these outages other than hauling in dozens of loud generators that had to be constantly replenished with diesel got Huelskamp thinking. "Every corner of our economy was being electrified, but no one appeared to be thinking about temporary power. We saw a problem that needed a solution," he says.