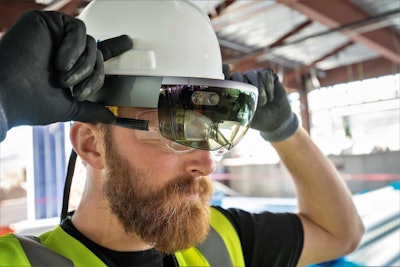 If you've ever walked a jobsite to fix in your mind where things will go before construction starts, now you don't have to use your imagination.
Trimble announced Thursday at the World of Concrete a HoloLens design that integrates with hardhats, making 3D virtual reality easily accessible to workers in the field.
With the HoloLens-fitted hard hat, workers can see 3D images of a layout on the ground or the design of a building and all its layers, structures and utilities. The images are based on CAD drawings that are streamed to the device from the cloud using Trimble Connect software.
Trimble calls the system a mixed-reality solution, meaning the user can select different layers of information from multiple subcontractors such as structural, mechanical and electrical workers. The virtual reality view is located with GPS coordinates and gives viewers a 1 to 1 scale view of the design in the context of the environment.
Previous Trimble HoloLens products were geared primarily for indoor use for designers, architects and engineers, allowing them to view buildings and structures as virtual reality CAD models. With the hardhat solution, workers in the field will now be able to access the same information and do something with it.
The system can be used to train workers, check the as-built work against the design, locate plumbing and wiring behind walls or find layout points on the ground. Additional tools allow the users to record and preserve data from the field. Trimble Connect for HoloLens can also help users steer clear of live wires and other potential hazards in a building or site.
The solution is ANSI-approved developed in collaboration with Microsoft to ensure a seamless connection between HoloLens and the hard hat using a suspension system and quick-release accessory clips.
The Trimble Connect for HoloLens software is available through the Microsoft Windows App Store. A free trial option is available enabling integration with HoloLens. Users pay subscriptions to access the data. The hardhat HoloLens gear is expected to be available in the first quarter of 2018.