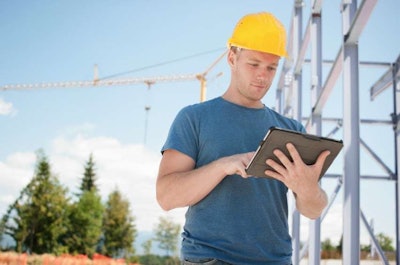 One of the leading management consultant companies in the country, McKinsey&Company, released a study on technology in the construction industry this week. It contains a good many gems, some of which will not be unfamiliar to Equipment World readers.
The big takeaway from the report "The new age of engineering and construction technology," is that a productivity revolution is at hand if only construction and engineering companies will embrace the change and fully exploit the opportunities new technology affords.
Most other industries across the globe have been able to create labor-productivity growth of 3 to 4 percent annually, according to the report. Yet construction has only averaged 1 percent productivity growth over the last 20 years. "If E&C (engineering and construction) companies can close this gap—partly by using new tools and solutions—the industry's output would increase by $1.6 trillion a year," says McKinsey.
New companies, investors and venture capitalists are plowing a lot of money into construction and engineering technology. From 2011 to 2016, $1.7 billion was invested in document management technology and $1.4 billion in equipment management systems and enterprise resource planning software for these industries. And these areas are the ones in which the industry needs the most help, according to McKinsey.
If you would like to read the full report, you can access it here.
McKinsey also highlighted some of the most promising hardware and software solutions coming to market, and they include:
Predictive analytics systems. These systems can collect billions of bits of data from machines as well as humans and optimize decision making for things like workloads, staffing levels, and strategies for improving efficiency.
Project monitoring enabled by drones and the Internet of Things (IoT). The report notes how Bechtel is now using drones for precision surveying, safety compliance and other tasks.
Safety monitoring enabled by wearables and virtual- or augmented-reality. The report notes that Skanska uses indoor GPS technology to mark hazard zones and activate safety warnings, and that virtual-reality safety walk-throughs may become standard operating procedure in the next few years.
With so much technology available, why isn't the industry doing more with it? McKinsey identifies the major stumbling blocks:
Insufficient commitment
Difficulties with company-wide rollout
Lack of compatibility with legacy systems
To prevent these problems from diminishing the full benefit of your technology investments, McKinsey recommends several strategies including focusing on the client journey, applying a mix of digital tools, new management systems, and cultural transformation. This also requires a strategic approach with performance baselines, metrics for improvement, full buy-in at all levels and continual investment.
For an in-depth look at this process, check out what our contributing editor Preston Ingalls has wrote about this topic recently.
McKinsey wraps up its report with recommendations to create test labs and pilot projects for technology within your companies. This may include the appointment of chief digital officers and chief of innovation positions.  The company also notes the need to let data guide decisions and to consider partnerships, mergers and acquisitions to bring digital skills in-house.