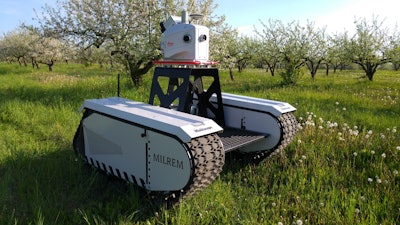 Leica Geosystems has partnered with a company called Milrem to launch the Pegasus Multiscope Unmanned Ground Vehicle—a mini-machine that can take GPS mapping and camera technology into places where you wouldn't risk the lives or safety of your crew.
Designed to perform GPS mapping chores on dangerous terrain the Pegasus Multiscope can work around minefields, war zones, border patrols, nuclear facilities, or in mud, deep sand or snow. It can also be used to traverse cliff sides or unstable banks when surveying for dam construction or in areas that have recently suffered from floods, fire and other natural disasters.
The Pegasus Multiscope can follow a preprogramed route and uses cameras that are calibrated to the 3D point cloud. It maps terrain and objects to within 2- to 3-centimeter accuracy.
The unit measures 79 inches long by 36 to 83 inches wide and 38.5 inches tall and scoots along the ground at speeds from 15 to 22 mph. It can crawl up slopes to 45 degrees, weighs 1,985 pounds and carries a payload of up to 1,655 pounds. Being a tracked vehicle it can also counter rotate with zero turning radius.
Power for the Pegasus Multiscope include a diesel generator, lithium-ion battery packs and graphene ultra-capacitors for up to 10 hours of run time.