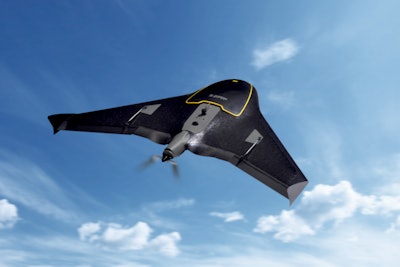 The former home of B-1B bombers and current home to the RQ-4 Global Hawk drone, North Dakota's Grand Forks Air Force Base will soon become host to the first business park in the U.S. that solely houses companies involved in the fast-growing commercial drone business.
With the Federal Aviation Administration giving its OK to the development of commercial drone applications through a set of proposed rules issued in February, several, "national and international companies are jockeying for position," and a spot in the planned park, according to a report from the Associated Press.
Construction is slated to begin in May on the 1.2-million-square-foot park. Northrop Grumman, which builds the RQ-4, has agreed to anchor the park.
Grand Sky Development President Tom Swoyer told the AP that more big names will follow Grumman, including a "household name in the unmanned aircraft industry."
Companies are excited about the park because it is expected to be a "melting pot," of accessible talent and productive competition further fueling innovation, the AP reports.
And innovation in the space is already moving a breakneck pace. For instance, after the FAA finally gave Amazon the OK last week to test its drone delivery service, Amazon testified before a Senate subcommittee that the approval is actually evidence of how poorly federal regulators are doing at keeping up with the technology.
According to a report from The Verge, here's what Amazon vice president for Global Public Policy Paul Misener told the subcommittee:
"(W)hile the FAA was considering our applications for testing, we innovated so rapidly that the [drone] approved last week by the FAA has become obsolete. We don't test it anymore. We've moved on to more advanced designs that we already are testing abroad."
The FAA's deliberation over Amazon's drone request took one and a half years. Misener told the subcommittee the FAA should pattern its decision making after that of European countries where the company has not been asked to wait more than one or two months for approval on drone testing.