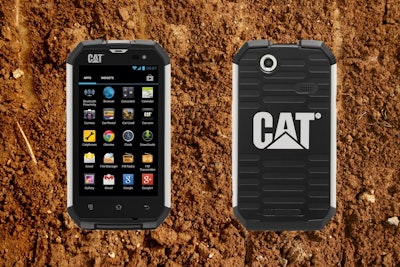 While the Galaxy S4 Active went for rugged and sleek, the Caterpillar B15—the company's first smartphone— goes for rugged with attitude. The device is military spec with an IP67 rating. That means it's waterproof, dustproof and will survive a 5.9-foot drop to hard concrete. The device can also operate in temperatures ranging from 122F to -4F.
So, the B15 might be the thickness of two iPhones stacked on top of one another, but an iPhone doesn't have nearly as many lives as the B15. The device runs Android 4.1 — not exactly the latest version of Google's operating system, but you'll still have full access to the Google Play app store. The B15′s 4-inch display isn't exactly as sharp the other phones on this list, but at 800 x 480, the resolution is more than serviceable on the jobsite. More importantly, the display is protected by very durable Gorilla Glass to protect it from drops and scratches. You can even use this touchscreen with wet hands.
With the Cat B15, you sacrifice looks and a bit of speed for durability. But this is the first smartphone designed for construction specifically and that's worth a high spot on our list. Plus the price is right: about $350 off contract. To find out where you can pick a B15, or a fleet of B15s, up, check Cat's Where to Buy page by clicking here.