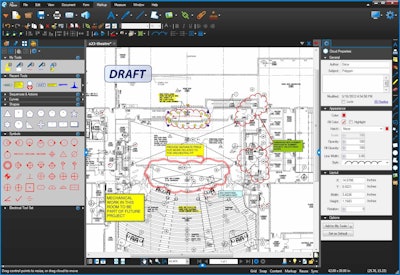 Collaborate on project documents and digitize technical reviews with Revu 11 from Bluebeam Software, which allows editing files from the cloud and annotating with an enhanced set of PDF markup and editing options.
The Studio Projects Offline mode allows the project team to centrally maintain a master set, and Bluebeam Studio, Revu's integrated cloud feature, enables the user to access and edit files from a desktop or tablet. If the user loses Internet connectivity, the changes will sync when the connection is restored, ensuring edits are preserved.
Revu 11 also has an AutoMark feature that allows users to organize PDFs by creating bookmarks and page labels from PDF content. The Sets feature allows team members to view, navigate and edit multiple files as if they were a single file, which is useful for use in the field. A new Format Painter applies property settings across multiple annotations.
The software also has improved search functionality in VisualSearch, which assists in generating material cost calculations for bids and estimates. Users can now also create 3D PDFs from any IFC file and easily manipulate 3D content, such as exposing interior details, and using the Transform tool to create exploded views and animating reassembly.