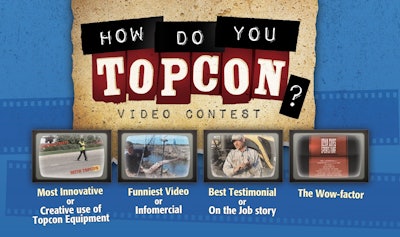 Topcon Positioning Systems (TPS) has launched its second annual 'How do you Topcon?' video contest, which will run through December 15.
The contest features four categories: most innovative or creative use of Topcon equipment; funniest video or infomercial; best testimonial or on-the-job story; and the wow factor.
To enter, participants upload a video of no more than three minutes showing how they use Topcon products and services, including use in construction, survey, emerging business and agriculture.
Contest prizes include a pre-selected Topcon product, an iPad and gift cards ranging from from $50 to $750.
For official rules and information about entering, visit howdoyoutopcon.com.