John Deere launched the latest addition to its K-Series lineup today in the 655K crawler loader. The company says the 655K builds on the success of the 755K and seeks to give operators and contractors an adaptable piece of machinery for loading trucks, digging and moving materials around the jobsite.
Deere says its number one priority when designing the 655K was increasing the machine's uptime. To that end, the company has reduced engine heat and component wear by implementing its Quad-Cool system along with a variable-speed fan driven by the machine's hydraulics.
The 655K is powered by Deere's PowerTech 6.8-liter, Tier 4 interim-compliant engine with 145 horsepower. Deere notes the 655K's hydrostatic transmission provides operators with the ability to control speed, counter-rotate the tracks for space-saving turns, power management and dynamic braking. V-pattern and joystick transmission controls are available.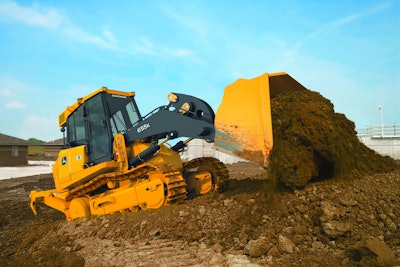 Two bucket options are available for the 655K. Operators can choose between a general-purpose bucket or a 4-in-1 multi-purpose bucket. In back, Deere includes a triple-shank ripper that turns materials as you drive. Weighing in at 40,614 pounds, the 655K has a bucket breakout force of 33,271 pounds. The rated heaped capacity is 2.4 cubic yards with the general purpose bucket and 2.1 cubic yards with the multipurpose bucket.
The 655K also features several operator comforts including a quieter cab, keyless start and a security system that requires a passcode entered through a touchpad to prevent just anyone from operating your machine.
Onboard diagnostics are displayed on a monitor inside the cab including temperature, pressure and speed while machine location, health, fuel consumption and more are sent to John Deere's JDLink system which allows fleet managers to view that data on a computer as well as from a tablet or smartphone.