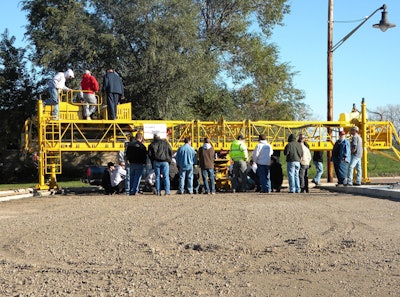 Terex Roadbuilding will host spring paving service school dates for Terex Bid-Well automatic roller pavers and workbridges.
The two-day training sessions will take place April 26-27 and May 2-3 in Sioux Falls and Canton, South Dakota.
The classes, which are taught by service and field instructors, offer in-depth discussion for paver and workbridge set-up, operation and service.
"Students will learn how to spec and set up our pavers for some of the most complex paving applications, and we cover what options are available to improve paving efficiency," said Dean Johnson, service manager for Terex Bid-Well. "We also discuss the symptoms of machine aging, what to look for and how to diagnose and correct issues."
The first day of each training session features in-class discussion and instruction at the Best Western Ramkota Hotel and Conference Center in Sioux Falls and will cover bridge, airport, highway and slope paving techniques; machine set-up; texture and curing; controller adjustment and troubleshooting; skewed deck paving; screed rail and chair set-up; and thin-bonded overlays.
On day two, participants will take a shuttle to Canton for hands-on paving demonstrations with Terex Bid-Well pavers, where students practice what they learned in the classroom and instructors will show the students proper paver set-up and operation for standard and skewed pours. The day will end with a guided tour of the new 80,000 square foot Terex Bid-Well office and manufacturing facility.
Tuition for the two-day class is $200, which includes meals as well as transportation to and from the airport, hotel and Terex Bid-Well facility. Session attendees receive discounted hotel room rates at the Best Western Ramkota in Sioux Falls. Room reservations can be made either online at www.siouxfalls.ramkota.com or by calling 605-336-0650.
Registration deadline is one week prior to the session date. There is no limit to the number of attendees a company can send, but classroom size is limited to 50 participants.
For more details or to register, visit bid-well.com/ServiceSchoolForm, or contact Aron Sweeney at 800-843-0824 or aron.sweeney@terex.com.